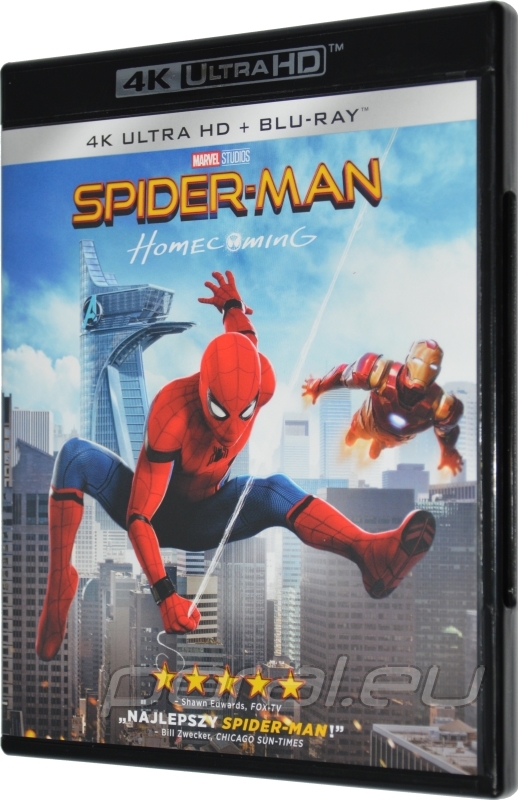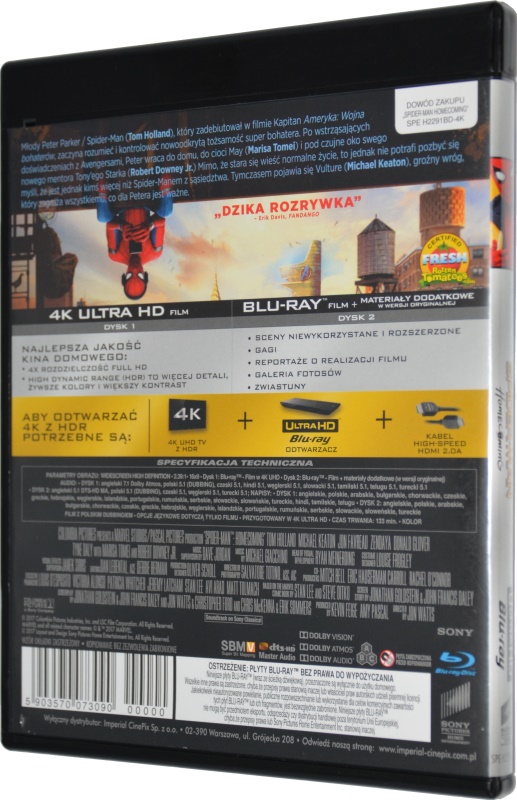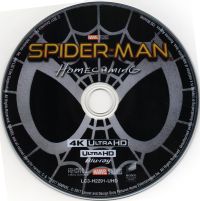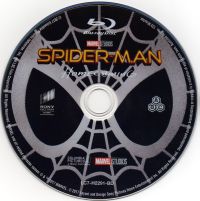 ---
Tytuł polski:
Spider-Man: Homecoming
Original Title / Tytuł oryginalny
Spider-Man: Homecoming
---
Gatunek:
Science-Ficiton
Director / Reżyser: Jon Watts
Writer / Scenariusz: John Francis Daley, Jonathan M. Goldstein, Erik Sommers, Jon Watts, Christopher D. Ford, Chris McKenna
Cinematography / Zdjęcia: Salvatore Totino
Music / Muzyka: Michael Giacchino
Cast / Obsada: Tom Holland, Michael Keaton, Robert Downey Jr., Marisa Tomei, Jon Favreau, Gwyneth Paltrow, Zendaya, Donald Glover, Jacob Batalon, Laura Harrier, Tony Revolori, Bokeem Woodbine, Tyne Daly, Abraham Attah, Hannibal Buress, Kenneth Choi, Selenis Leyva, Angourie Rice, Martin Starr, Garcelle Beauvais, Michael Chernus, Michael Mando, Logan Marshall-Green, Jennifer Connelly, Gary Weeks, Christopher Berry, Tunde Adebimpe, Tiffany Espensen, Michael Barbieri, J.J. Totah, Hemky Madera, Bob Adrian, Stan Lee, Wayne Pére, Chris Evans, Kerry Condon, Amy Hill, Martha Kelly, Jennifer Kim, Andy Powers
Dystrybucja w Polsce:
Imperial-CinePix
Studio:
Sony Pictures Home Entertainment
/
Marvel Studios
Data produkcji: 2017
Numer katalogowy: SPE H2291BD-4D
(PL - Polska)
okładka w języku polskim
EAN: 5903570073090 (149,99 zł Media Markt 22.11.2017)
Dostępny w sprzedaży:
22.11.2017
Czas: 02:13:28
Płyta 4K Ultra-HD
Audio Formats / Dźwięk:

Dolby Atmos
(Compatible Dolby TrueHD 7.1) angielski

Dolby Digital 5.1 czeski (448 kbps)

Dolby Digital 5.1 hinduski (448 kbps)

Dolby Digital 5.1 węgierski (448 kbps)

Dolby Digital 5.1 polski
(dubbing)
(448 kbps)
Dolby Digital 5.1 słowacki (448 kbps)
Dolby Digital 5.1 tamilski (448 kbps)

Dolby Digital 5.1 telugu (448 kbps)

Dolby Digital 5.1 turecki (448 kbps)
Subtitles / Napisy:
Aspect Ratio 4K Ultra-HD: 16:9 - 2.39:1
Anamorphic Scope
(2160p / 23,976 fps / Ultra High Definition / HDR10 / BT.2020 / Dolby Vision)
Interaktywne menu w języku: angielskim
BD-Info Raport [4K Ultra-HD]
Rozmiar Filmu Blu-ray: 29,63 GB z Audio
Video codek 4K Ultra-HD:
HEVC
Video codek Blu-ray:
MPEG-4 AVC
Region:
A-B-C
Typ płyty 4K Ultra-HD:
57,21 GB
Blu-ray Disc (dwuwarstwowa) UHD-66
Typ płyty Blu-ray:
39,09 GB
Blu-ray Disc (dwuwarstwowa) BD-50
Supplements / Materiały dodatkowe:
Płyta 4K Ultra-HD
Screen Cast & Crew [4K Ultra-HD]
- Gallery (84)
Płyta Blu-ray
MPEG-4, HD (1920x1080) Dolby Digital 2.0 angielski (192 kbps)
napisy: angielskie.
- The Spidey Study Guide
- Gag Reel (00:02:17)
Deleted & Extended Scenes
(All 00:16:17)
- A Film by Peter Parker (Director's Cut) (00:05:37)
- Cafeteria (00:00:54)
- Return form ATM (00:00:51)
- Triskelin Cleanup (00:00:54)
- Anxious Toomes (00:01:08)
- Aaron Still Stuck (00:00:42)
- Go It Alone (00:00:00)
- Happy Calls His Mom (00:00:00)
- Midtown News Final Segment (00:00:00)
- Mr. Harrington Lessons in Love (00:00:00)
- A Tangled Web (00:06:11)
- Searching For Spider-Man (00:08:04)
- Spidey Stunds (00:05:48)
- Aftermath (00:04:47)
- The Vulture Takes Fight (00:06:01)
- Jon Watts: Head of the Class (00:05:29)
- Pros And Cons of Spider-Man (00:03:28)
Rappin' With Cap
(All 00:02:26)
- Safety First (00:00:36)
- Food For Thought (00:00:35)
- Brain Power (00:00:29)
- Your Changing Body (00:01:00)
- Photo Gallery (82)
- Spier-Man: Hopmecoming VR Trailer (00:01:38)
- An Inside Look at Marvel's Spider-Man | PS4 (00:02:45)
Opis: Młody Peter Parker/Spider-Man (Tom Holland), poszukuje swojego nowego ego superbohatera. Zafascynowany przygodą z Avengersami, wraca do domu, gdzie mieszka wraz z ciotką May (Marisa Tomei). Cały czas pozostaje pod czujnym okiem swego mentora – Tony'ego Starka (Robert Downey Jr.). Próbuje wrócić do normalnego życia, unikając myśli, że jest kimś więcej niż tylko "Spider-Manem z sąsiedztwa". Jednak kiedy pojawia się Vulture (Michael Keaton), nowy groźny wróg, wszystko, co dla Petera ważne, staje się zagrożone.
Screeny z menu [4K Ultra-HD]
3840x2160 Rozmiar 2.27 MB
3840x2160 Rozmiar 2.37 MB
3840x2160 Rozmiar 2.67 MB
Screeny z filmu [4K Ultra-HD]
Okładka 4K Ultra-HD
Zwiastun [Youtube]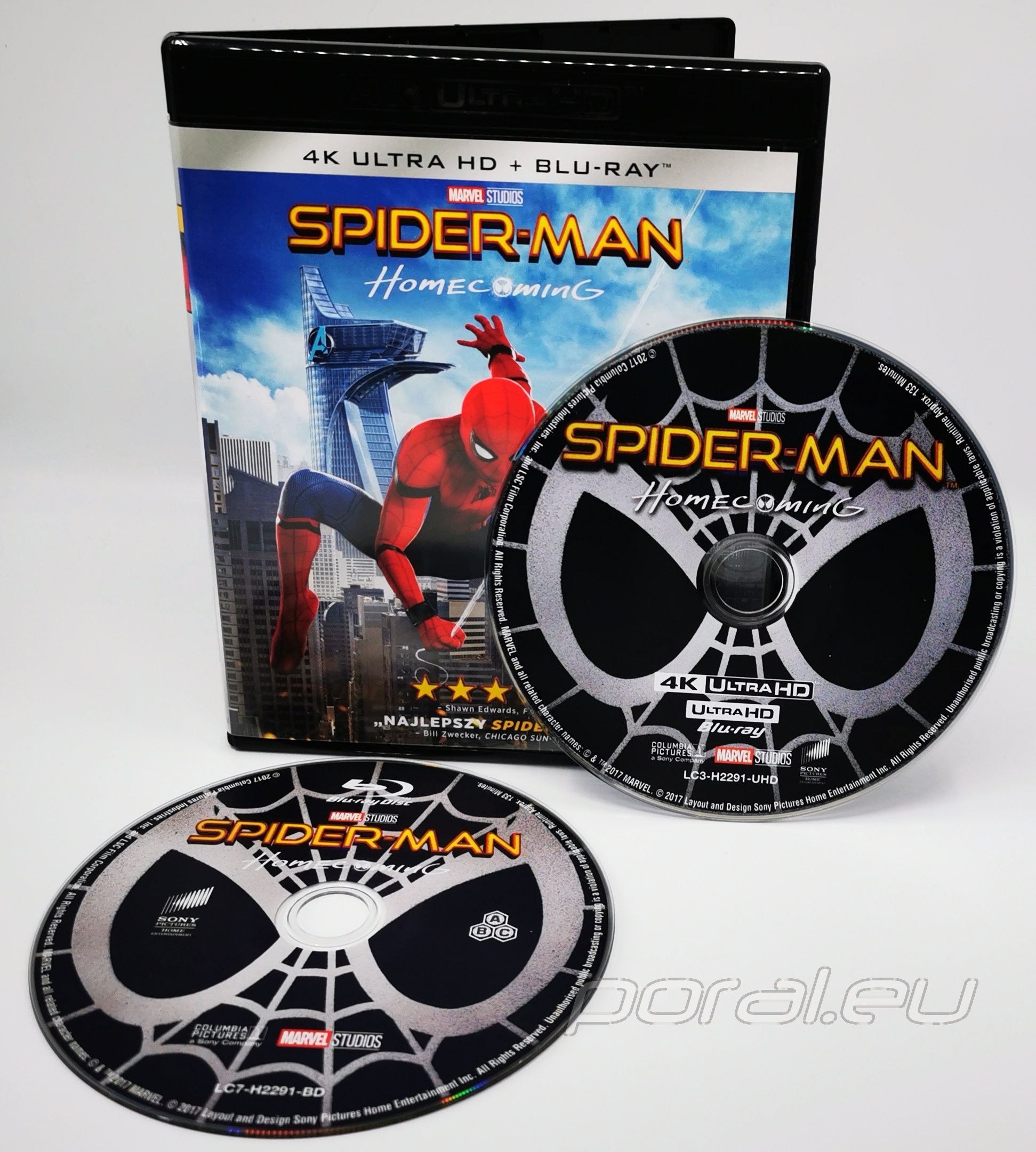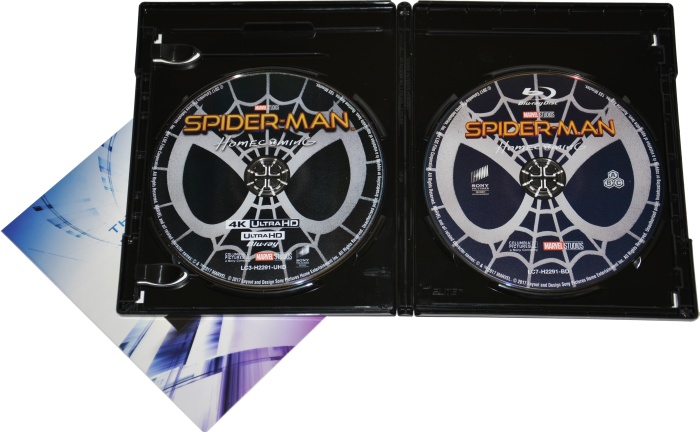 4K Ultra-HD
- Spider-Man: Homecoming (2017) EAN: 5903570073090

Blu-ray
- Spider-Man: Homecoming (2017) EAN:
5903570073076