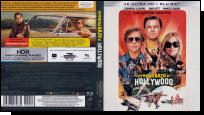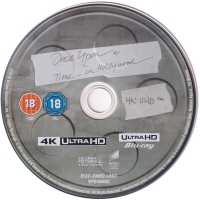 ---
Tytuł polski:
Pewnego razu... w Hollywood

Original Title / Tytuł oryginalny
Once Upon a Time... in Hollywood
---
Gatunek:
Komedia
/
Dramat
Director / Reżyser: Quentin Tarantino
Writer / Scenariusz: Quentin Tarantino
Cinematography / Zdjęcia: Robert Richardson
Music / Muzyka:
Cast / Obsada: Leonardo DiCaprio, Brad Pitt, Margot Robbie, Emile Hirsch, Margaret Qualley, Timothy Olyphant, Austin Butler, Dakota Fanning, Bruce Dern, Al Pacino, Julia Butters, Kurt Russell, Zoë Bell, Mike Moh, Damian Lewis, Luke Perry, Nicholas Hammond, Lorenza Izzo, Samantha Robinson, Rafał Zawierucha, Costa Ronin, Damon Herriman, Lena Dunham, Madisen Beaty, Mikey Madison, James Landry Hébert, Maya Hawke, Victoria Pedretti, Sydney Sweeney, Harley Quinn Smith, Kansas Bowling, Parker Love Bowling, Danielle Harris, Michael Madsen, Scoot McNairy, Clifton Collins Jr., Marco Rodríguez, Ramón Franco, Courtney Hoffman, Dreama Walker, Rachel Redleaf, Rebecca Rittenhouse, Rumer Willis, Spencer Garrett, Clu Gulager, Martin Kove, Rebecca Gayheart, Perla Haney-Jardine, James Remar, Monica Staggs, Craig Stark, Keith Jefferson, Omar Doom, Kate Berlant, Brenda Vaccaro, Lew Temple, David Steen, Gabriela Flores, Vincent Laresca, Maurice Compte, Eddie Perez, Nichole Galicia, Christina Sergoyan, Caitlin Herst, Natalie Cohen, Kayla Radomski, Michaela Sprague
Dystrybucja w Polsce:
Imperial-CinePix
Studio:
Sony Pictures Home Entertainment
/ Columbia Pictures / Bona Film Group / Heyday Films
Data produkcji: 2019
Numer katalogowy: SPE J9082BD-4K
(PL - Polska)
okładka w języku polskim
EAN: 5903570074660
Dostępny w sprzedaży:
11.12.2019
Czas: 02:41:29
Płyta 4K Ultra-HD
Audio Formats / Dźwięk:

DTS-HD Master Audio
7.1
angielski

Dolby Digital 5.1 angielski (640 kbps)

Dolby Digital 5.1 angielski (640 kbps)

Dolby Digital 5.1 czeski (640 kbps)

Dolby Digital 5.1 francuski (640 kbps)

Dolby Digital 5.1 francuski (640 kbps)

Dolby Digital 5.1 hiszpański (640 kbps)
Dolby Digital 5.1 koreański (640 kbps)

Dolby Digital 5.1 polski
(lektor)
Marek Lelek (Tekst: Mariusz Arno Jaworowski) (640 kbps)

Dolby Digital 5.1 portugalski (640 kbps)

Dolby Digital 5.1 rosyjski (640 kbps)
Dolby Digital 5.1 tajski (640 kbps)

Dolby Digital 5.1 węgierski (640 kbps)
Subtitles / Napisy:
Aspect Ratio 4K Ultra-HD: 16:9 - 2.39:1
Anamorphic Scope
(2160p / 23,976 fps / Ultra High Definition / HDR10 / BT.2020)
Interaktywne menu w języku: angielskim
BD-Info Raport [4K Ultra-HD]
Rozmiar Filmu 4K Ultra-HD: 80,10 GB z Audio
Rozmiar Filmu Blu-ray: 35,50 GB z Audio
Video codek 4K Ultra-HD:
HEVC
Video codek Blu-ray:
MPEG-4 AVC
Region:
A-B-C
Typ płyty 4K Ultra-HD:
90,30 GB
Blu-ray Disc (trzywarstwowa) UHD-100 (97 042 300 928 bajtów)
Typ płyty Blu-ray:
42,80 GB
Blu-ray Disc (dwuwarstwowa) BD-50 (45 967 409 152 bajtów)
Supplements / Materiały dodatkowe:
HEVC, UHD (3840x2160) Dolby Digital 2.0 angielski (kbps)
napisy: angielskie, chińskie, koreański, portugalskie, hiszpańskie, tajskie
Additional Scenes
(All 00:25:01)
- Old Chattanooga Beer Commercial Circa 1969 (00:00:49)
- Red Apple Commercial Circa 1969 (00:01:10)
- Hullabaloo - Rick Dalton Sings "Greem Door" (00:02:55)
- Bounty Law (00:03:49)
- Lancer - The Meeting of Two Brothers (00:04:50)
Płyta Blu-ray
- Quentin Tarantino i jego list miłosny do Hollywood
- Bob Richardson - Z miłości do filmu
- Rozmowa - Samochody w 1969
- Odtwarzanie Hollywood - Scenografia w filmie Pewnego razu... w Hollywood
- Moda z 1969
Opis: Pełna anegdot i elektryzujących dygresji historia aktora grającego w westernach, który próbuje wrócić na szczyt (Leonardo DiCaprio), oraz jego wiernego dublera (Brad Pitt nigdy nie był lepszy). W tle czasy kontestacji, ruch hipisów, zmierzch epoki klasycznego Hollywoodu i złotej ery telewizji. Poza tym Steve McQueen, Bruce Lee, spaghetti westerny, a także piękna Sharon Tate i Roman Polański po wielkim sukcesie "Dziecka Rosemary"
Screen Menu [4K Ultra-HD]
Video Bitrate [4K Ultra-HD]
Okładka [4K Ultra-HD]
Video Menu Disc
Zwiastun [Youtube]
4K Ultra-HD
- Pewnego razu... w Hollywood - Once Upon a Time... in Hollywood (2019) EAN: 5903570074660
Muzyka Filmowa
- Pewnego razu... w Hollywood - Once Upon a Time... in Hollywood (2019) EAN: 0190759728628