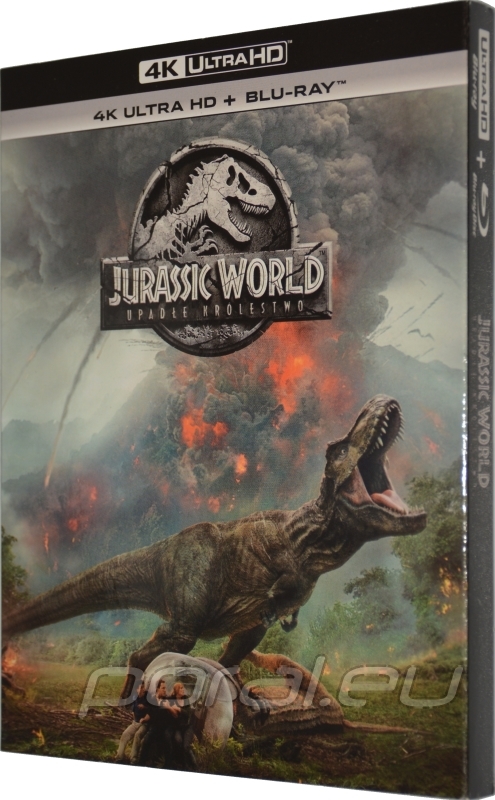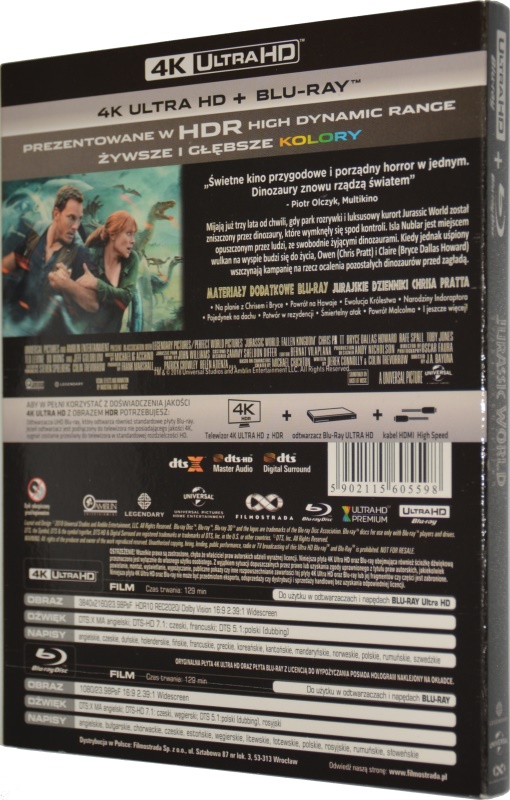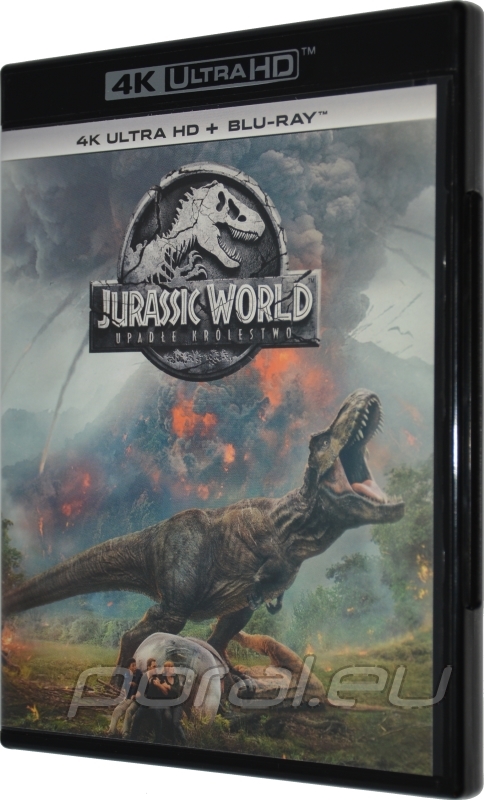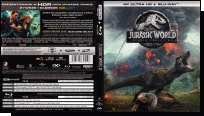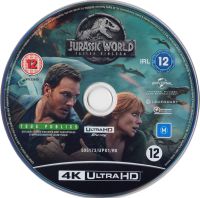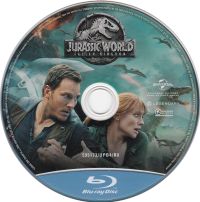 ---
Tytuł polski:
Jurassic World: Upadłe Królestwo
Original Title / Tytuł oryginalny
Jurassic World: Fallen Kingdom
---
Gatunek:
Akcja
/
Science-Fiction
Director / Reżyser: J.A. Bayona
Writer / Scenariusz: Colin Trevorrow, Derek Connolly
Cinematography / Zdjęcia: Óscar Faura
Music / Muzyka: Michael Giacchino
Cast / Obsada: Chris Pratt, Bryce Dallas Howard, Jeff Goldblum, Ted Levine, Toby Jones, James Cromwell, B.D. Wong, Rafe Spall, Daniella Pineda, Geraldine Chaplin, Peter Jason, Justice Smith, Isabella Sermon, Kevin Layne, Michael Papajohn, Robert Emms, Kamil Lemieszewski, Charlie Rawes, Cory Peterson, Ronan Summers
Dystrybucja w Polsce:
Filmostrada
Studio:
Universal Pictures
Data produkcji: 2018
Numer katalogowy:
(PL - Polska)
okładka w języku polskim
EAN: 5902115605598 (99 zł empik com 30.10.2018)
Dostępny w sprzedaży:
02.11.2018
Empik 18.10.2018
Czas: 02:08:17
Płyta 4K Ultra-HD
Audio Formats / Dźwięk:

DTS:X
angielski

DTS-HD High Resolution
7.1 francuski (2046 kbps)

DTS-HD High Resolution
7.1 czeski (2046 kbps)

DTS 5.1 polski
(dubbing)
(768 kbps)
Subtitles / Napisy:
Aspect Ratio 4K Ultra-HD: 16:9 - 2.39:1
Anamorphic Scope
(2160p / 23,976 fps / Ultra High Definition / HDR10 / BT.2020 / Dolby Vision)
Interaktywne menu w języku: angielskim
BD-Info Raport [4K Ultra-HD]
Rozmiar Filmu 4K Ultra-HD: 55,70 GB z Audio
Rozmiar Filmu Blu-ray: 32,66 GB z Audio
Video codek 4K Ultra-HD:
HEVC
Typ płyty 4K Ultra-HD:
86,12 GB
Blu-ray Disc (dwuwarstwowa) UHD-100 (92 479 094 784 bajtów)
Typ płyty Blu-ray:
41,63 GB
Blu-ray Disc (dwuwarstwowa) BD-50 (44 706 496 512 bajtów)
Supplements / Materiały dodatkowe:
Płyta 4K Ultra-HD i Blu-ray
4K Ultra-HD - HEVC, UHD (3840x2160) Dolby Digital 2.0 angielski (192 kbps)
napisy: polskie i inne.
- On Set with Chris & Bryce (00:03:05)
- The Kingdom Evolves (00:04:33)
- Return to Hawaii (00:02:41)
- Island Action (00:06:01)
- Aboard the Arcadia (00:05:53)
- Birth of the Indoraptor (00:04:09)
- Start the Bidding! (00:03:18)
- Death by Dino (00:01:33)
- Monster in a Mansion (00:03:06)
- Rooftop Showdown (00:03:48)
- Malcolm's Return (00:03:07)
- VFX Evolved (00:07:08)
- Fallen Kingdom: The Conversation (00:10:16)
- A Song for the Kingdom (00:01:26)
Chris Pratt's Jurassic Journals
(All 00:12:09)
- Vivian Baker, Makeup Artist
- Mary Mastro, Hair Stylist
- Chris Murphy, 1 Assastant Sound
- Dean Bailey, Stund Edge Car Driver
- Peter Harcourt, Diver
- Daniella Pineda and Justice Smith, Actors
- Judy Wiltshire, Set Pa
- Kelly Krieg, Assistant Script Supervisor
- J.A, Bayona, Director
- James Cox, Stunt Performer
- Rachelle Beinart, Stunt Double
- Bryce Dallas Howard Chris Pratt, Actors
Opis: Minęły cztery lata, od kiedy luksusowy park rozrywki Jurassic World został zdewastowany przez dinozaury i zamknięty. Isla Nublar jest dziś opuszczona przez ludzi, a dinozaury, które przetrwały, próbują poradzić sobie w dżungli same. Kiedy uśpiony dotąd wulkan budzi się do życia, Owen (Chris Pratt) i Claire (Bryce Dallas Howard) za wszelką cenę chcą uratować pozostałe przy życiu stwory. Owen próbuje odnaleźć Blue, zaginionego raptora, którego wychował, dla Claire ocalenie dinozaurów staje się najważniejszą misją. Kiedy przybywają na wyspę, wulkan zaczyna już wyrzucać z siebie deszcz lawy; Claire i Owen odkrywają spisek mający przywrócić Ziemię do stanu, którego nie widzieliśmy od czasów prehistorycznych.
Screen Menu [4K Ultra-HD]
Screen [4K Ultra-HD]
Video Bitrate [4K Ultra-HD]
Okładka [4K Ultra-HD]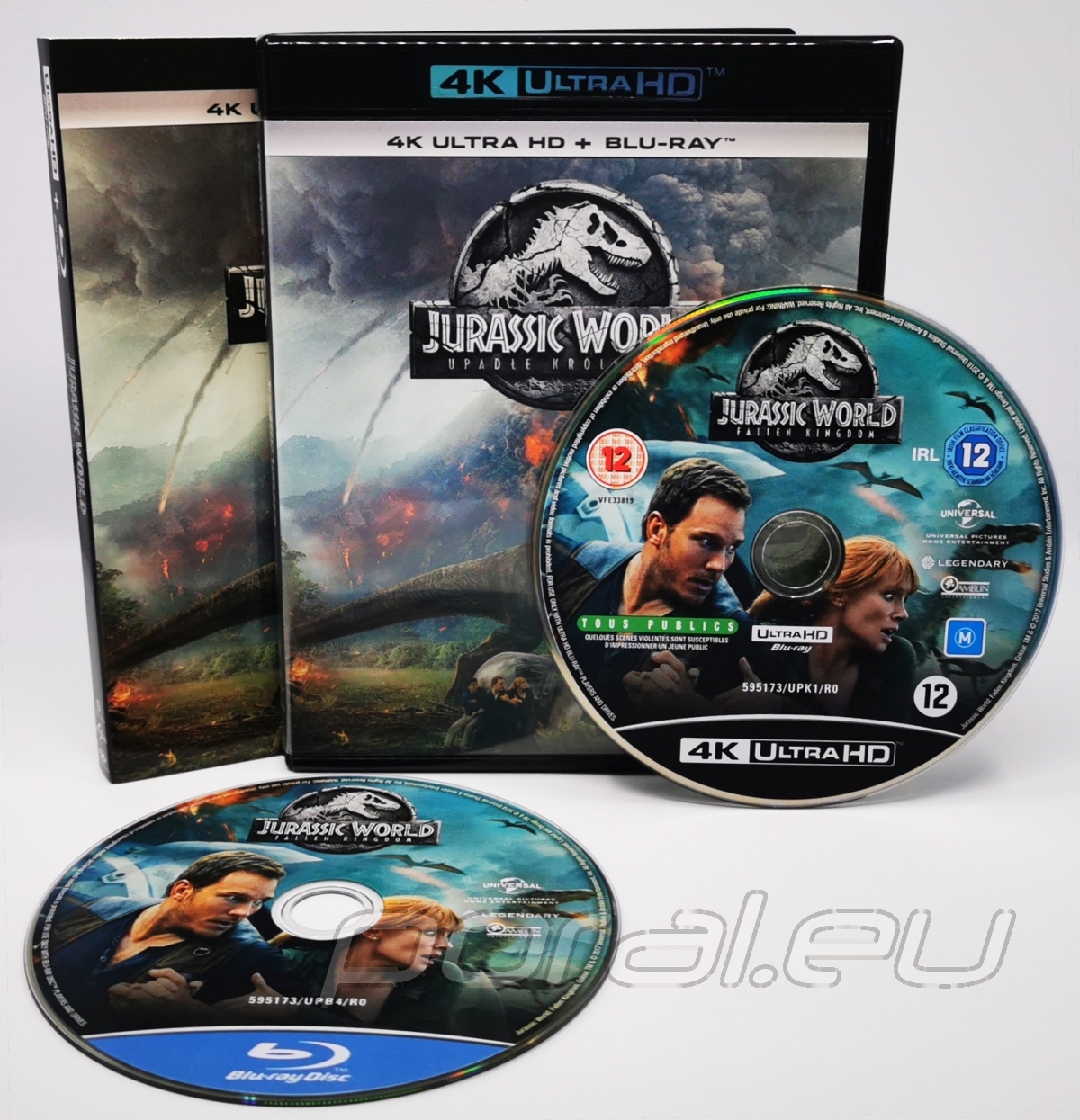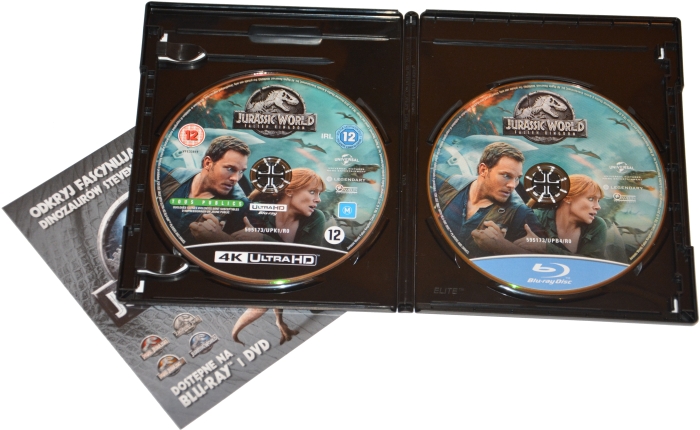 4K Ultra-HD
- Jurassic World: Upadłe Królestwo - Jurassic World: Fallen Kingdom (2018) EAN: 5902115605598
Blu-ray
- Jurassic World: Upadłe Królestwo - Jurassic World: Fallen Kingdom (2018) EAN:
5902115605567