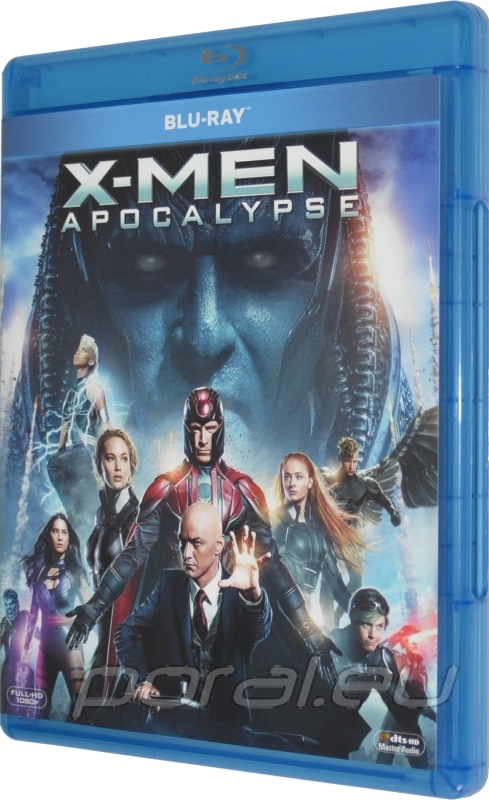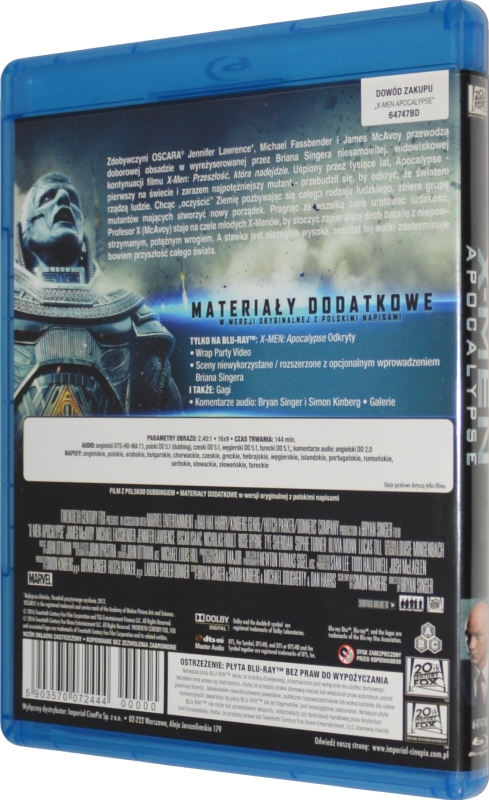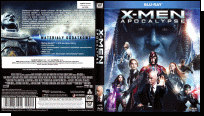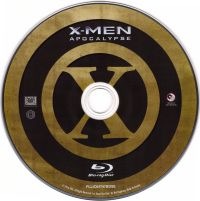 /10

&nbsp &nbsp Oceniło: 0
---
Tytuł polski:
X-Men: Apocalypse

Original Title / Tytuł oryginalny
X-Men: Apocalypse
---
Gatunek:
Science-Fiction
/
Akcja
Reżyser: Bryan Singer
Scenariusz: Simon Kinberg
Cinematography / Zdjęcia: Newton Thomas Sigel
Muzyka: John Ottman
Cast / Obsada: James McAvoy, Michael Fassbender, Jennifer Lawrence, Nicholas Hoult, Oscar Isaac, Rose Byrne, Evan Peters, Josh Helman, Sophie Turner, Tye Sheridan, Lucas Till, Kodi Smit-McPhee, Ben Hardy, Alexandra Shipp, Lana Condor, Olivia Munn, Monique Ganderton, Fraser Aitcheson, Ally Sheedy, Anthony Konechny, Lukas Penar, Joanne Boland, Manuel Tadros, T.J. McGibbon, Tómas Lemarquis, Stan Lee, Stephen Bogaert, John Bourgeois, Dan Lett, Shawn Campbell, Joe Cobden, John Ottman, Željko Ivanek, Hugh Jackman, Jason Deline
Dystrybucja w Polsce:
Imperial-CinePix
Studio:
20th Century Fox
Data produkcji: 2016
Numer katalogowy: 64747BD
(PL - Polska)
okładka w języku polskim
EAN: 5903570072444 (22,99 zł Media Markt 18.01.2019)
Dostępny w sprzedaży:
05.10.2016
Czas: 02:23:56
Audio Formats / Dźwięk:

DTS-HD Master Audio
7.1
angielski

Dolby Digital 5.1 czeski (448 kbps)

Dolby Digital 5.1 węgierski (448 kbps)

Dolby Digital 5.1 polski
(dubbing)
(448 kbps)

Dolby Digital 5.1 turecki (448 kbps)

Dolby Digital 2.0 angielski komentarze (224 kbps)
Subtitles / Napisy:
Aspect Ratio: 16:9 - 2.35:1
Anamorphic Scope
(1080p / 23,976 fps / High Definition)
Interaktywne menu w języku: angielskim
BD-Info Raport [←→]
Rozmiar Filmu: 33,05 GB z Audio
Video codek:
MPEG-4 AVC
Region:
B-C
Typ płyty:
44,17 GB
Blu-ray Disc (dwuwarstwowa)
Supplements / Materiały dodatkowe:
MPEG-4, HD (1920x1080) Dolby Digital 2.0 angielski (224 kbps)
napisy: czeskie, greckie, węgierskie, polskie, portugalskie.
Deleted/Extended Scenes
With Optional Introductions by Bryan Singer (Off/On)
- Hey Big Brother (00:01:30)
- Welcome Scott + Jean Archery W/ Powers (00:02:02)
- Magneto Reborn + Apoc Alley (00:03:29)
- Be Good, Brother (00:01:22)
- Nice to Meet You (Jubilee and Birds) (00:02:58)
- Raven Tour + Jubilee Tour (Extended) (00:02:09)
- Original Mall ("Safety Dance") (00:03:17)
- Old Houses + You'll Find It a Little Different (00:01:20)
- Jet Memories (00:00:46)
- "You Don't Know Me" (00:01:09)
- "It's Over" (00:00:45)
- Cyclops is Born + "I Don't Need Luck" + Moira Arrests Stryker (00:02:59)
- Gag Reel (00:07:56)
- Wrap Party Video (00:04:46)
X-Men: Apocalypse Unearthed
(All 01:03:58)
- En Sabah Nur: Setting The Stage for Apocalypse (00:10:56)
- Clan of Akkaba: Apoclaypse and His Horsemen (00:14:07)
- Answering The Call: Assembling The New X-Men Team (00:09:07)
- The End of Times: Creating a New Age of Apocalypse (00:06:20)
- Unlimited Powers: VFX, Stints and set Pieces (00:19:57)
- What's Next (00:03:33)
- Audio Commentart by Bryab Singer and Simon Kinberg (Off/On)
Gallery
(Auto advence)
Concept Art
* Characters
- Apocalypse (00:01:08) (15)
- Four Horsemen 3600 BCE (00:00:28) (7)
- Four Horsemen 1983 (00:00:28) (7)
- X-Men (00:01:03) (14)
* Locations
- Nile Valley (00:01:28) (19)
- Cairo, Egypt (00:00:58) (13)
- Pruszków, Poland (00:00:18) (5)
- East Berlin (00:00:28) (7)
- X-Mansion (00:00:38) (9)
- Alikali Lake (00:00:23) (6)
Unit Photography (00:01:03) (14)
Theatrical Trailers
(All 00:07:15)
- Teaser Trailer (00:02:26)
- Theatrical Trailers 1 (00:02:17)
- Theatrical Trailers 2 (00:02:31)
Opis: Apocalypse to pierwszy i najpotężniejszy mutant z uniwersum X-Men, którego od zarania cywilizacji czczono niczym boga. Apocalypse przejął moce wielu innych mutantów, co czyni go nieśmiertelnym i niepokonanym. Gdy budzi się do życia po wielu tysiącach lat, postanawia podbić świat i gromadzi wokół siebie grupę potężnych mutantów, wśród których jest rozczarowany i pozbawiony złudzeń Magneto (Michael Fassbender). Wspólnie postanawiają oczyścić rodzaj ludzki i zaprowadzić nowy porządek na świecie, którym odtąd niepodzielnie władać będzie Apocalypse. Mimo iż los Ziemi wydaje się przesądzony, Raven (Jennifer Lawrence) i Profesor X (James McAvoy) postanawiają wkroczyć do akcji i z pomocą grupy młodych X-Menów powstrzymać wroga i ocalić nasz świat przed totalnym zniszczeniem.
Screen Menu [Blu-ray]
Screen [Blu-ray]
Video Bitrate [Blu-ray]
Okładka [Blu-ray]
Zwiastun [Youtube]
Blu-ray
- X-Men: Apocalypse (2016) EAN: 5903570072444
DVD
- X-Men: Apocalypse (2016) EAN: 5903570158933
Wszystkie filmy:
3217
Polskie okładki Blu-ray:
2030
BD-Info [Blu-ray]:
3073
BD-Info [4K Ultra-HD]:
273
Video Bitrate [Blu-ray]:
2901
Video Bitrate [UHD]:
177
Skany płyt Blu-ray:
2778
Video Menu:
212



Strona poral.eu powstała w 2006 roku na której znajdują się prawie wszystkie filmy Blu-ray i 4K Ultra-HD, które zostały wydane w Polsce oraz poza granicami Polski z polską wersją jezykową. Jakie informacje umieszczam? Podstawa to BD-Info, wykres Video Bitrate, skany opakowania lub zdjęcia. Pozostałe to screen-y z filmu i menu, ciekawszych dodatków oraz specyfikacja materiałów dodatkowych. Chcesz pomóc? Prześlij brakujące informacje, pliki, okładki, zdjęcia, skany.
KONTAKT
-
DOSTĘP
-
KOLEKCJA
e-mail:
slawomir@poral.net
&nbsp &nbsp
&nbsp &nbsp
&nbsp &nbsp