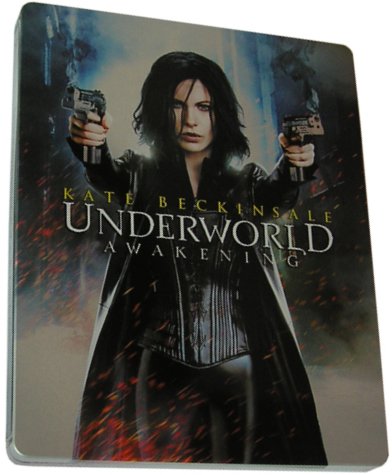 ---
Tytuł polski:
Underworld: Przebudzenie

Original Title / Tytuł oryginalny
Underworld: Awakening
---
Gatunek:
Akcja
/
Horror
/
Fantasy
Reżyser: Mans Marlind, Björn Stein
Scenariusz: John Hlavin, J. Michael Straczynski, Allison Burnett, Len Wiseman
Cinematography / Zdjęcia: Scott Kevan
Muzyka: Paul Haslinger
Cast / Obsada: Kate Beckinsale, India Eisley, Michael Ealy, Charles Dance, Theo James, Kris Holden-Ried, Sandrine Holt, Stephen Rea, Richard Cetrone, Sanny Van Heteren, Jacob Blair, Robert Lawrenson, Kurt Max Runte, Marvin Duerkholz, Ian Robison, Ron Wear, Shawn Beaton, Daniel Boileau, Jesse Branden Dahl, William Francis, Angela R. Knight, Lee Majdoub, Peter Maze, Tyler McClendon, Panou, Dan Payne, Adam Greydon Reid, Julia Rhodes, Jeff Sanca, Christian Tessier, James Waterson, Damon Winters, Alicia Vela-Bailey
Dystrybucja w Polsce:
Imperial-CinePix
Studio:
Screen Gems
Data produkcji: 2012
Numer katalogowy:
EAN: 5903570068102 - Płyta 3D
Dostępny w sprzedaży:
28.05.2012
Polska: Wersja
3D
Czas: 01:28:34
Audio Formats / Dźwięk:

DTS-HD Master Audio
5.1 angielski

Dolby Digital 5.1 czeski (640 kbps)

Dolby Digital 5.1 hinduski (640 kbps)

Dolby Digital 5.1 węgierski (640 kbps)

Dolby Digital 5.1 polski
(lektor)
Marek Ciunel (640 kbps)

Dolby Digital 5.1 rosyjski (640 kbps)
Dolby Digital 5.1 tamilski (640 kbps)

Dolby Digital 5.1 telugu (640 kbps)

Dolby Digital 5.1 turecki (640 kbps)
Dolby Digital 5.1 ukraiński (640 kbps)

Dolby Digital 2.0 angielski komentarze (192 kbps)
Subtitles / Napisy: angielskie, arabskie, bułgarskie, chorwackie, czeskie, estońskie, greckie, hebrajskie, hinduskie, węgierskie, islandzkie, łotewskie, polskie, portugalskie, rumuńskie, rosyjskie, serbskie, słowackie, słoweńskie, tureckie.
Aspect Ratio: 16:9 - 2.40:1
Anamorphic Scope
(1080p / 23,976 fps / High Definition)
Interaktywne menu w języku: angielskim, rosyjskim.
BD-Info Raport [←→]
Rozmiar Filmu: 22,23 GB z Audio
Video codek:
MPEG-4 AVC
Region:
A-B-C
Typ płyty:
38,92 GB
Blu-ray Disc (dwuwarstwowa)
Supplements / Materiały dodatkowe:
- Cracking the Underworld picture-in-picture experience
- Filmmaker commentary (Off/On)
MPEG-4, HD (1920x1080) Dolby Ditigal 2.0 angielski (192 kbps)
napisy: angielskie, greckie, rosyjskie.
Featurette
(All 01:02:55)
- Selene Rises (00:12:14)
- Casting the Future of Underworld (00:12:34)
- Resuming the Action (00:08:53)
- Building a Better Lycan (00:10:20)
- Awekining a Franchise, Building a Brutal New World (00:18:53)
- Blooper Reel (00:03:21)
- "Heavy Prey" music video by Lacey Sturm feat. Geno Lenardo (00:03:25)
Underworld: Endless War
(All 00:17:26)
- Part One (00:05:35)
- Part Two (00:05:59)
- Part Three (00:06:28)
MPEG-2, HD (1920x1080) Dolby Digital 5.1 angielski (640 kbps)
- Starship Troopers Invasion (00:01:17)
Screen Menu [Blu-ray]
Opis: Długo wyczekiwana kontynuacja trylogii, która na całym świecie zarobiła niemal 300 milionów dolarów. Kate Beckinsale powraca w roli wampirzycy Seleny, która po latach uśpienia budzi się w świecie, w którym ludzie wiedzą już o istnieniu wampirów i lykanów. Trwają przygotowania do wielkiej wojny, skierowanej przeciwko dwóm nieśmiertelnym rasom.
Screen [Blu-ray]
Blu-ray
- Underworld: Przebudzenie - Underworld: Awakening (2012) EAN: 5903570068102