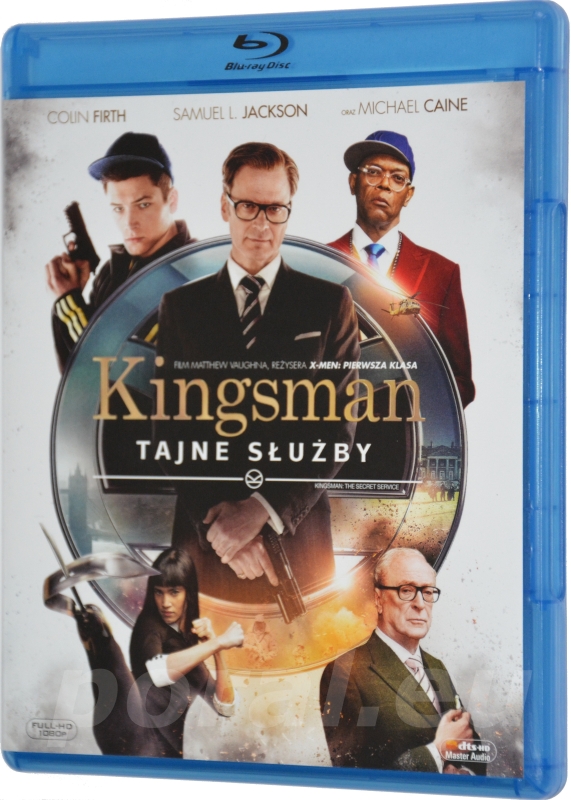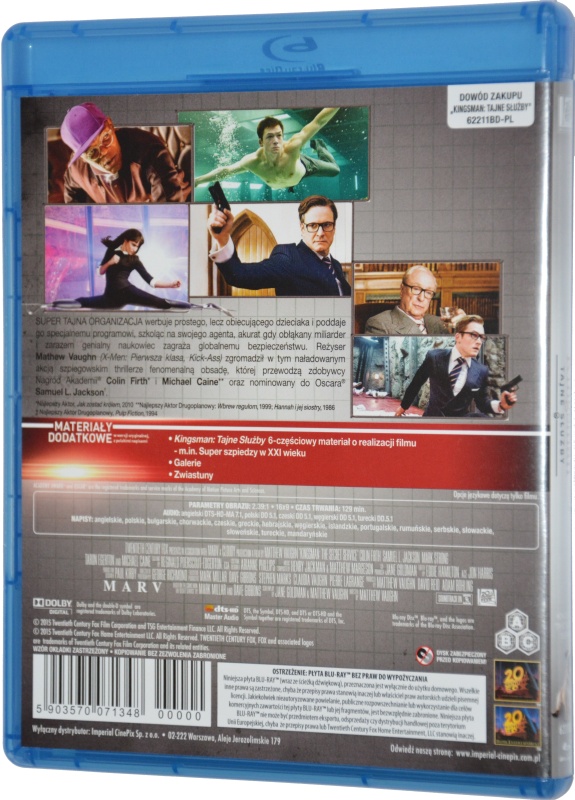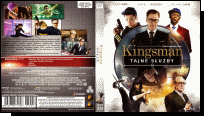 /10

&nbsp &nbsp Oceniło: 0
---
Tytuł polski:
Kingsman: Tajne Służby

Original Title / Tytuł oryginalny
Kingsman: Secret Service
---
Gatunek:
Akcja
/
Komedia Kryminalna
Reżyser: Vaughn Matthew
Scenariusz: Vaughn Matthew, Jane Goldman
Cinematography / Zdjęcia: George Richmond
Muzyka: Henry Jackman, Matthew Margeson
Cast / Obsada: Taron Egerton, Colin Firth, Samuel L. Jackson, Mark Strong, Michael Caine, Sophie Cookson, Jack Davenport, Mark Hamill, Sofia Boutella, Edward Holcroft, Jack Cutmore-Scott, Geoff Bell, Samantha Womack, Morgan Watkins, Tom Prior, Jordan Long, Velibor Topic, Nicholas Banks, Fiona Hampton, Johanna Taylor, Lily Travers, Corey Johnson, Tobi Bakare, Nicholas Agnew, Theo Barklem-Biggs, Adrian Quinton, Jonno Davies, Alex Nikolov, Leon Symnz, Paul Kennington, Ralph Ineson, Rowan Polonski, Richard Brake, Andrew Bridgmont, Anne Wittman, Andrei Lenart
Dystrybucja w Polsce:
Imperial-CinePix
Studio:
20th Century Fox
Data produkcji: 2014
Steelbook (Opakowanie Kolekcjonerskie Metalowe)
Numer katalogowy: 6221BD-PL
(PL - Polska)
okładka w języku polskim
EAN: 5903570071348 (10 zł Saturn 19.01.2018)
EAN: 5903570071492 - Steelbook
Dostępny w sprzedaży:
10.06.2015
Czas: 02:08:44
Audio Formats / Dźwięk:

DTS-HD Master Audio
7.1
angielski

Dolby Digital 5.1 czeski (448 kbps)

Dolby Digital 5.1 wegierski (448 kbps)

Dolby Digital 5.1 polski
(lektor)
Piotr Borowiec (Tekst: Elżbieta Gałązka-Salamon) (448 kbps)

Dolby Digital 5.1 turecki (448 kbps)
Subtitles / Napisy:
Aspect Ratio: 16:9 - 2.35:1
Anamorphic Scope
(1080p / 23,976 fps / High Definition)
Interaktywne menu w języku: angielskim
BD-Info Raport [←→]
Rozmiar Filmu: 31,83 GB z Audio
Video codek:
MPEG-4 AVC
Region:
A-B-C
Typ płyty:
43,35 GB
Blu-ray Disc (dwuwarstwowa)
Supplements / Materiały dodatkowe:
MPEG-4, HD (1920x1080) Dolby Digital 2.0 angielski (224 kbps)
napisy: polskie
Kingsman: The Secret Service Revealed
(All 01:31:41)
- Panel to Screen: The Education of a 21st Century Super-Spy (00:10:19)
- Heroes and Rogues (00:23:09)
- Style All His Own (00:10:49)
- Tools of the Trade (00:15:21)
- Breathtakingly Brutal (00:17:27)
- Culture Clash: The Comic Book Origins of the Secret Service (00:15:09)
Galleries
- Behind the Scenes
- Sets
- Props
MPEG-4, HD (1920x1080) Dolby Digital 5.1 angielski (448 kbps)
- Theatrical Trailer (00:02:22)
Screen Menu [Blu-ray]
Opis: SUPER TAJNA ORGANIZACJA werbuje prostego, lecz obiecującego dzieciaka i poddaje go specjalnemu programowi, szkoląc na swojego agenta, akurat gdy obłąkany miliarder i zarazem genialny naukowiec zagraża globalnemu bezpieczeństwu. Reżyser Mathew Vaughn (X-Men: Pierwsza klasa, Kick-Ass) zgromadził w tym naładowanym akcją szpiegowskim thrillerze fenomenalną obsadę, której przewodzą zdobywcy Nagród Akademii Colin Firth i Michael Caine oraz nominowany do Oscara Samuel L. Jackson.
Screen [Blu-ray]
Video Bitrate [Blu-ray]
Okładka [Blu-ray]
Zwiastun [Youtube]
Blu-ray
- Kingsman: Tajne Służby - Kingsman: Secret Service (2014) EAN: 5903570071348
Blu-ray Steelbook
- Kingsman: Tajne Służby - Kingsman: Secret Service (2014) EAN: 5903570071492
Wszystkie filmy:
3217
Polskie okładki Blu-ray:
2030
BD-Info [Blu-ray]:
3073
BD-Info [4K Ultra-HD]:
273
Video Bitrate [Blu-ray]:
2901
Video Bitrate [UHD]:
177
Skany płyt Blu-ray:
2778
Video Menu:
212



Strona poral.eu powstała w 2006 roku na której znajdują się prawie wszystkie filmy Blu-ray i 4K Ultra-HD, które zostały wydane w Polsce oraz poza granicami Polski z polską wersją jezykową. Jakie informacje umieszczam? Podstawa to BD-Info, wykres Video Bitrate, skany opakowania lub zdjęcia. Pozostałe to screen-y z filmu i menu, ciekawszych dodatków oraz specyfikacja materiałów dodatkowych. Chcesz pomóc? Prześlij brakujące informacje, pliki, okładki, zdjęcia, skany.
KONTAKT
-
DOSTĘP
-
KOLEKCJA
e-mail:
slawomir@poral.net
&nbsp &nbsp
&nbsp &nbsp
&nbsp &nbsp