It appears that you are using an ad-blocking program (Adblock).
Please disable Adblock so that we can provide you with valuable content.
---
Wygląda na to, że używasz programu blokującego reklamy (Adblock).
Prosimy o wyłączenie Adblocka, abyśmy mogli dostarczać Ci wartościowe treści.
Blu-ray
- Gracz - The Gambler (2014) EAN:
5903570071263

---
Gracz
The Gambler
---
Gatunek:
Dramat
/
Kryminalny
Reżyser: Rupert Wyatt
Scenariusz: William Monahan
Cinematography / Zdjęcia: Greig Fraser
Muzyka: Jon Brion, Theo Green
Cast / Obsada: Mark Wahlberg, Griffin Cleveland, Jessica Lange, Omar Leyva, Anthony Kelley, Steve Park, Emory Cohen, Brie Larson, George Kennedy, Chil Kong, Michael Kenneth Williams, Da'Vone McDonald, Amin Joseph, Cjon Saulsberry, Teebone Mitchell, Jasmond Carroll, Ria Wilkinson, Janet McPhail, Alvin Ing, Karen Ritchie, Tina Wang, Josiah Blount, Shakira Ja'nai Paye, Melanie McComb, Andre Braugher, Domenick Lombardozzi, John Goodman, Chanon Finley, Raquel Pomplun, Mattie Hawkinson, Lauren Weedman, James Wellington, Carlos L. Smith, Henry Penzi, Steve Kim, Steven Fisher
Dystrybucja w Polsce:
Imperial CinePix
Studio:
Paramount Pictures
Data produkcji: 2014
Numer katalogowy: PAR 139157BD-PL
(PL - Polska)
okładka w języku polskim
EAN: 5903570071263 (22,99 zł Media Markt 07.11.2019)
Dostępny w sprzedaży:
01.04.2015
Czas: 01:50:58
Audio Formats / Dźwięk:

DTS-HD Master Audio
5.1 angielski

Dolby Digital 5.1 czeski (640 kbps)

Dolby Digital 5.1 węgierski (640 kbps)

Dolby Digital 5.1 polski
(lektor)
Maciej Gudowski (Tekst: Piotr Kacprzak) (640 kbps)

Dolby Digital 5.1 rosyjski (640 kbps)

Dolby Digital 2.0 turecki (224 kbps)
Subtitles / Napisy:
Aspect Ratio: 16:9 - 2.35:1
Anamorphic Scope
(1080p / 23,976 fps / High Definition)
Interaktywne menu w języku: angielskim
BD-Info Raport [ ← 246 KB → ]
Rozmiar Filmu: 29,76 GB z Audio
Video codek:
MPEG-4 AVC
Region:
A-B-C
Typ płyty:
41,87 GB
Blu-ray Disc (dwuwarstwowa) (44 967 067 648 bajtów)
Supplements / Materiały dodatkowe:
MPEG-4, HD (1920x1080) Dolby Digital 2.0 angielski (224 kbps)
napisy: polskie
- Mr. Self Destruct: Inside The Gambler (00:14:12)
- Dark Before Dawn: The Descent of The Gambler (00:16:26)
- Changing The Game: Adaptation (00:09:02)
- In The City: Locations (00:09:27)
- Dressing Thr Players: Costume Design (00:07:49)
Deleted/Extended Scenes
(All 00:23:31)
- Jim's Lecture - EXT (00:09:18)
- A Borm Teacher - EXT (00:01:58)
- Big Ernie (00:02:38)
- Taxi Ride (00:01:34)
- Jim's Ex-Wife (00:06:40)
- Larry Jones (00:01:44)
Opis fabuły:
Profesor literatury, a jednocześnie nałogowy hazardzista traci cały swój majątek. Wkrótce zapożycza się u niewłaściwych ludzi, którzy domagają się spłaty długu.
Screeny z menu [Blu-ray]
Screeny z filmu [Blu-ray]
Video Bitrate - Płyta Blu-ray Film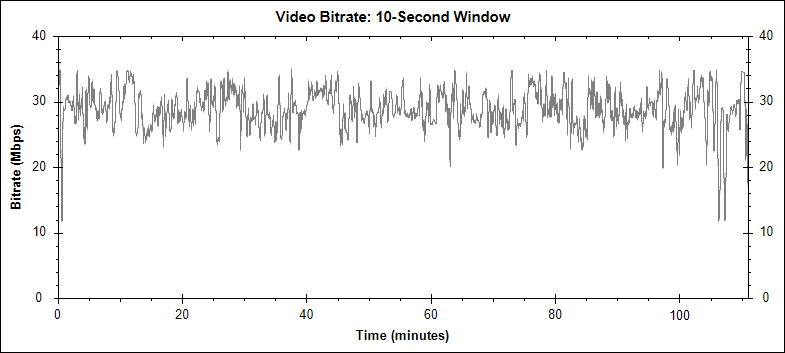 Okładka Blu-ray