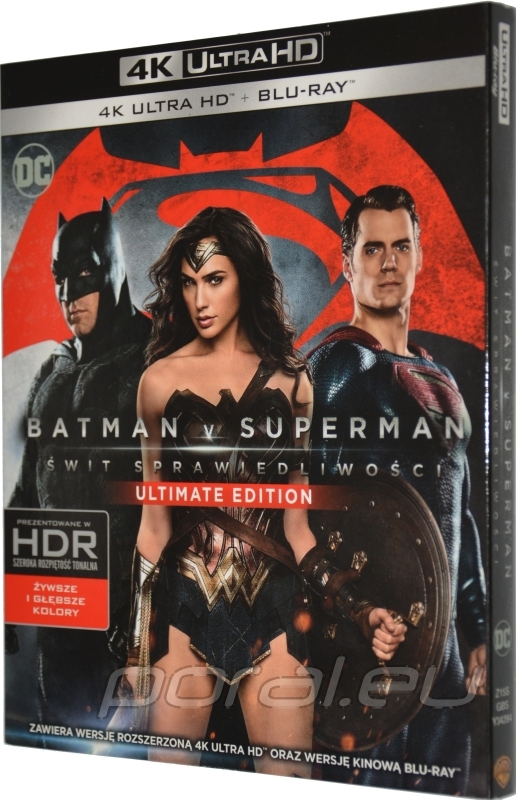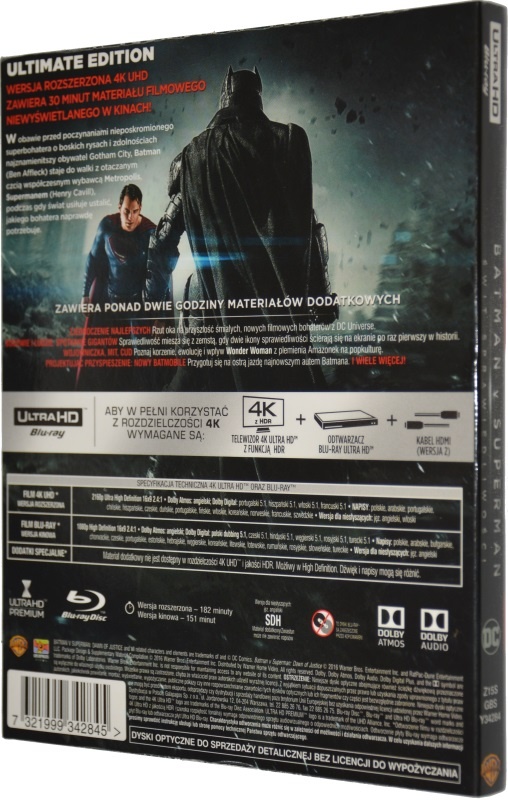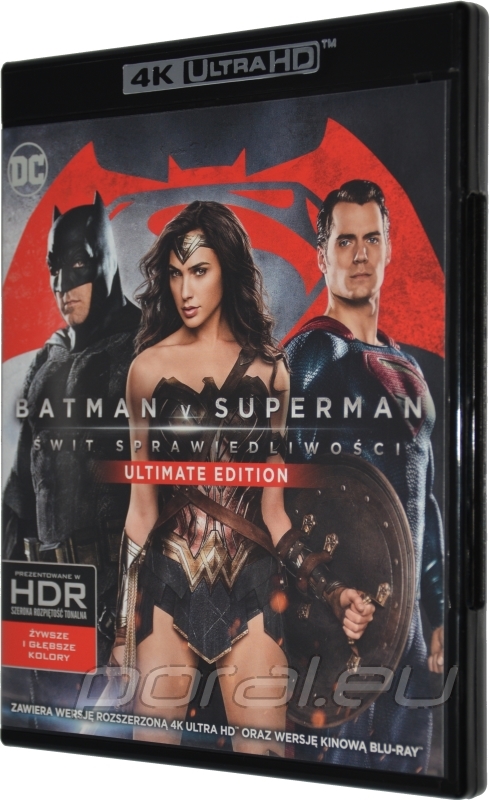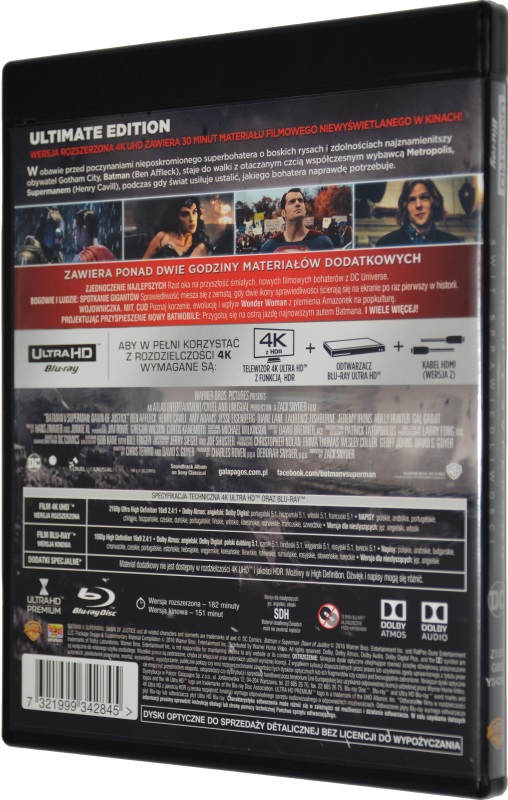 4K Ultra HD
- Batman v Superman: Świt Sprawiedliwości - Batman v Superman: Dawn of Justice (2016) EAN: 7321999342845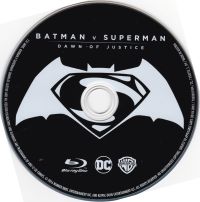 ---
Batman v Superman: Świt Sprawiedliwości
Batman v Superman: Dawn of Justice Extended cut Uncensored Edition
---
Gatunek:
Akcja
/
Science-Fiction
/
Fantasy
Director / Reżyser: Zack Snyder
Writer / Scenariusz: Chris Terrio, David S. Goyer
Cinematography / Zdjęcia: Larry Fong
Music / Muzyka: Hans Zimmer, Junkie XL
Obsada: Ben Affleck, Henry Cavill, Amy Adams, Jesse Eisenberg, Diane Lane, Laurence Fishburne, Jeremy Irons, Holly Hunter, Gal Gadot, Kevin Costner, Tao Okamoto, Ray Fisher, Jason Momoa, Jena Malone, Ezra Miller, Scoot McNairy, Bailey Chase, Callan Mulvey, Michael Cassidy, Christina Wren, Harry Lennix, Dan Amboyer, Nicole Forester, Sammi Rotibi, Ele Bardha, Brian Boland, Rebecca Buller, Patrick Wilson, Gordon Michaels, Jalene Mack, Jay Adams, Joe Cipriano, Marko Caka, Sal Lopez, Michael Shannon, Will Blagrove, Abigail Kuklis, Walbert Beltran, Harley Wallen, Jeffrey Dean Morgan, Anderson Cooper, Brandon Spink, Robin Atkin Downes
Dystrybucja w Polsce:
Galapagos
- DVD /
Blu-ray
/
Blu-ray Ultimate
/
Blu-ray 3D
/ 4K Ultra HD
Studio:
Warner Bros.
/
DC
Data produkcji: 2016
Numer katalogowy: Z15S GBS Y34284
(PL - Polska)
okładka w języku polskim
EAN: 7321999342845 (125,10 zł Media Markt 20.08.2016)
Dostępny w sprzedaży:
14.08.2016
Czas: 03:02:33 - 4K Ultra HD
Czas: 02:31:40 - Blu-ray
Płyta 4K Ultra HD
Audio Formats / Dźwięk:

Dolby Atmos
(Compatible Dolby TrueHD 7.1) angielski

Dolby Digital 5.1 angielski (448 kbps)

Dolby Digital 5.1 francuski (448 kbps)

Dolby Digital 5.1 włoski (448 kbps)

Dolby Digital 5.1 hiszpański (448 kbps)

Dolby Digital 5.1 portugalski (448 kbps)
Dolby Digital 5.1 japoński (448 kbps)
Subtitles / Napisy:
Aspect Ratio 4K Ultra HD: 16:9 - 2.35:1
Anamorphic Scope
(2160p / 23,976 fps / Ultra High Definition / HDR / BT.2020)
Interaktywne menu w języku: angielskim
BD-Info Raport [4K Ultra HD]
Rozmiar Filmu 4K Ultra HD: 85,32 GB z Audio
Rozmiar Filmu Blu-ray: 34,16 GB z Audio
Video codek 4K Ultra HD:
HEVC
Typ płyty 4K Ultra HD:
86,93 GB
Blu-ray Disc (trzywarstwowa) UHD-100 (93 340 958 720 bajtów)
Typ płyty Blu-ray:
46,31 GB
Blu-ray Disc (dwuwarstwowa) BD-50 (49 742 807 040 bajtów)
Supplements / Materiały dodatkowe:
Płyta Blu-ray
MPEG-4, HD (1920x1080) Dolby Digital 2.0 angielski (192 kbps)
napisy: angielskie, koreańskie, węgierskie, polskie, rosyjskie, tureckie.
- Uniting The World's Finest (00:15:05)
- Gods and Men: A Meeting of Giants (00:12:28)
- The Warrior, The Myth, The Wonder (00:21:16)
- Accelerating Design: The New Batmobile (00:22:46)
- Superman: Complexity & Truth (00:07:08)
- Batman: Austerity & Rage (00:08:15)
- Wonder Woman: Grace & Power (00:06:48)
- Batcave: Legacy of The Lair (00:07:12)
- The Might and The Power of A Punch (00:05:15)
- The Empire of Luthor (00:12:33)
- Save the Bats (00:04:37)
Opis fabuły:
W obawie przed poczynaniami nieposkromionego superbohatera o boskich rysach i zdolnościach, najznamienitszy obywatel Gotham City, a zarazem zaciekły strażnik porządku, staje do walki z otaczanym czcią współczesnym wybawcą Metropolis, podczas gdy świat usiłuje ustalić, jakiego bohatera naprawdę potrzebuje. Wobec konfliktu, który rozgorzał między Batmanem i Supermanem, na horyzoncie szybko pojawia się nowy wróg, stawiając ludzkość w obliczu śmiertelnego niebezpieczeństwa, z jakim jeszcze nigdy nie musiała się mierzyć.
Okładka 4K Ultra-HD
Statystyki strony


Wszystkie filmy:
3826
Polskie okładki Blu-ray:
2744
BD-Info [Blu-ray]:
3517
BD-Info [4K Ultra HD]:
464
Video Bitrate [Blu-ray]:
3373
Video Bitrate [UHD]:
364
Skany płyt Blu-ray:
3785
Video Menu:
690
O serwisie
Polski Portal Blu-ray
- poral.eu powstał w 2006 roku na którym znajdują się prawie wszystkie filmy Blu-ray i 4K Ultra HD, które zostały wydane w Polsce oraz poza granicami Polski z polską wersją jezykową. Jakie informacje umieszczam? Podstawa to BD-Info, wykres Video Bitrate, skany opakowania lub zdjęcia. Pozostałe to screen-y z filmu i menu, ciekawszych dodatków oraz specyfikacja materiałów dodatkowych.
Kontakt &nbsp Dostęp &nbsp Kolekcja &nbsp DVD &nbsp HD-DVD &nbsp Ericsson
&nbsp &nbsp
&nbsp &nbsp
&nbsp &nbsp
e-mail:
slawomir@poral.net
ⓒ 2006 poral.eu. Wszelkie prawa zastrzeżone.