4K Ultra HD
- Westworld, Sezon 2: Drzwi - Westworld, Season 2: The Door (2018) EAN: 7321932350173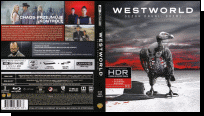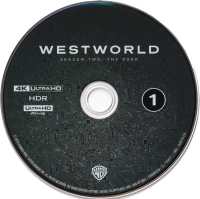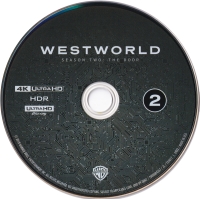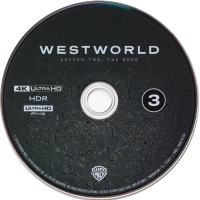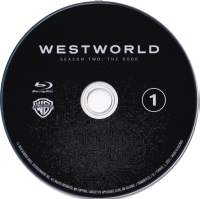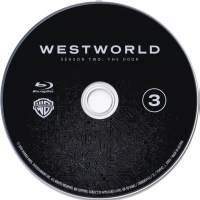 ---
Tytuł polski:
Westworld, Sezon 2: Drzwi
Original Title / Tytuł oryginalny
Westworld, Season 2: The Door
---
Gatunek:
Science-Fiction
/
Dramat
Director / Reżyser: Richard J. Lewis, Vincenzo Natali, Lisa Joy, Craig Zobel, Tarik Saleh, Nicole Kassell, Uta Briesewitz, Stephen Williams, Frederick E.O. Toye
Writer / Scenariusz: Lisa Joy, Jonathan Nolan, Carly Wray, Roberto Patino, Dan Dietz, Ron Fitzgerald, Jordan Goldberg
Cinematography / Zdjęcia: Darran Tiernan, John Grillo, M. David Mullen
Music / Muzyka: Ramin Djawadi
Cast / Obsada: Evan Rachel Wood, Thandie Newton, James Marsden, Talulah Riley, Katja Herbers, Ed Harris, Jonathan Tucker, Jeffrey Wright, Neil Jackson, Brian Ames, Tao Okamoto, Julia Jones, Kiki Sukezane, Zahn McClarnon, Martin Sensmeier, Tessa Thompson, Luke Hemsworth, Steven Ogg, Angela Sarafyan, Ben Barnes, Jimmi Simpson, Gustaf Skarsgard, Shannon Woodward, Ingrid Bolso Berdal, Rinko Kikuči, Clifton Collins Jr., Peter Mullan, Hirojuki Sanada, Betty Gabriel, Fares Fares, Simon Quarterman, René Ashton, Randal Edwards, Adrian Dev, Brett Edwards, Micah Fitzgerald, Ward Roberts, Boualem Hassaine, Anouar H. Smaine, Mark Kubr, Rodrigo Santoro, Giancarlo Esposito, Wiley M. Pickett, Scott Peat, Louis Herthum, Fredric Lehne, Leonardo Nam, Tantoo Cardinal, Currie Graham, Alexander Ward, Dieterich Gray, Kelvin Han Yee, Ramin Djawadi, Sancho Martin, Masayoshi Haneda, Lili Simmons, Rebecca Henderson, Timothy V. Murphy, Ronnie Gene Blevins, Anthony Hopkins, Sidse Babett Knudsen, Gina Torres, Irene Bedard, Booboo Stewart, Sarah Alami, Trisha LaFache, Sela Ward, Jack Conley, David Midthunder, Daniel da Silva, Mike Damus, Summer Spiro, Brenna Otts, Ed Gage, Izabella Alvarez, Hal Havins
Dystrybucja w Polsce:
Galapagos
- DVD /
Blu-ray
/ 4K Ultra HD
Studio:
Warner Bros.
/ HBO
Data produkcji: 2018
Numer katalogowy: Z15S GBS Y35017
(PL - Polska)
okładka w języku polskim
EAN: 7321932350173
Dostępny w sprzedaży:
04.12.2018
Płyta 1
Czas:
01:09:32 - Journey Into Night
00:57:49 - Reunion
00:58:02 - Virtu e Fortuna
01:10:40 - The Riddle of The Sphinx
Płyta 2
Czas:
00:58:25 - Akane No Nai
00:57:52 - Phase Space
00:58:29 - Les Ecorches
00:58:06 - Kiksuya
Płyta 3
Czas:
00:58:28 - Vanishing Point
01:29:59 - The Passenger
Płyta 4K Ultra HD
Audio Formats / Dźwięk:

Dolby Atmos
(Compatible Dolby TrueHD 7.1) angielski

Dolby Digital 5.1 czeski (640 kbps)

Dolby Digital 5.1 niemiecki (640 kbps)

Dolby Digital 5.1 hiszpański (640 kbps)

Dolby Digital 5.1 włoski (640 kbps)

Dolby Digital 5.1 polski
(lektor)
Piotr Borowiec (Tekst: Agnieszka Rostkowska) (640 kbps)

Dolby Digital 5.1 portugalski (640 kbps)
Subtitles / Napisy:
Aspect Ratio 4K Ultra HD: 16:9 - 1.78:1
Academy Flat
(2016p / 23.976 fps / High Definition / HDR10 / BT.2020 / Dolby Vision)
Interaktywne menu w języku: angielskim
BD-Info Raport [4K Ultra HD]
Video codek 4K Ultra HD:
HEVC
Video codek:
MPEG-4 AVC
Region:
A-B-C
Typ płyty 4K Ultra HD 1:
90,90 GB
Blu-ray Disc (trzywarstwowa) UHD-100
Typ płyty 4K Ultra HD 2:
88,70 GB
Blu-ray Disc (trzywarstwowa) UHD-100
Typ płyty 4K Ultra HD 3:
82,97 GB
Blu-ray Disc (trzywarstwowa) UHD-100
Typ płyty Blu-ray 1:
46,45 GB
Blu-ray Disc (dwuwarstwowa) BD-50
Typ płyty Blu-ray 2:
42,36 GB
Blu-ray Disc (dwuwarstwowa) BD-50
Typ płyty Blu-ray 3:
41,11 GB
Blu-ray Disc (dwuwarstwowa) BD-50
Supplements / Materiały dodatkowe:
Płyta 3 - 4K Ultra HD
- The Truth Behind Delos (00:12:47)
- These Violent Have Violent Ends (00:11:18)
Bring Yourself Back Online
- Reflections On Season 2 (00:14:49)
- Of Love and Shogun (00:15:26)
- Journeys and Technology (00:15:26)
Creating Westworld's Reality
- The Drone Hosts (00:03:23)
- An Evocative Location (00:03:23)
- Fort Forlorn Hope (00:05:32)
- The Delos Experiment (00:05:59)
- Shogun World (00:12:58)
- Inside The Cradle (00:04:48)
- Chaos in The Mesa (00:05:29)
- Ghost Nation (00:03:19)
- Deconstructing Maeve (00:03:31)
- The Valley Beyond (00:11:42)
Opis:

Drugi sezon głośnego serialu HBO, który jest mroczną odyseją o narodzinach sztucznej inteligencji i ewolucji grzechu. Opowiada o pełnym niepokojących zdarzeń świecie przyszłości. Pierwszy sezon został wyróżniony trzema nominacjami do Złotego Globu – w tym w kategorii "najlepszy serial dramatyczny". Otrzymał również cztery statuetki Emmy.
Video Bitrate - Płyta 4K Ultra-HD Film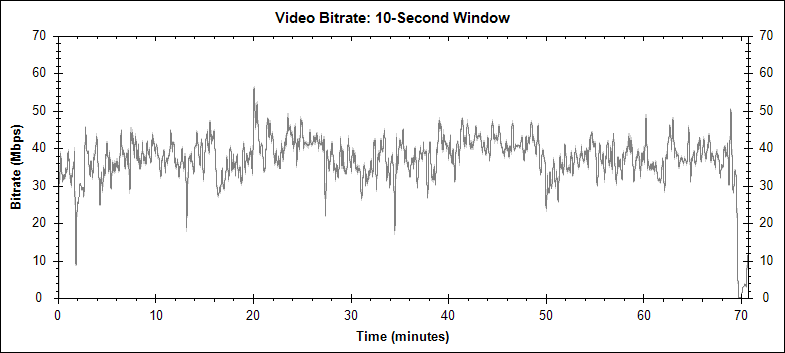 Video Bitrate - Płyta 4K Ultra-HD Film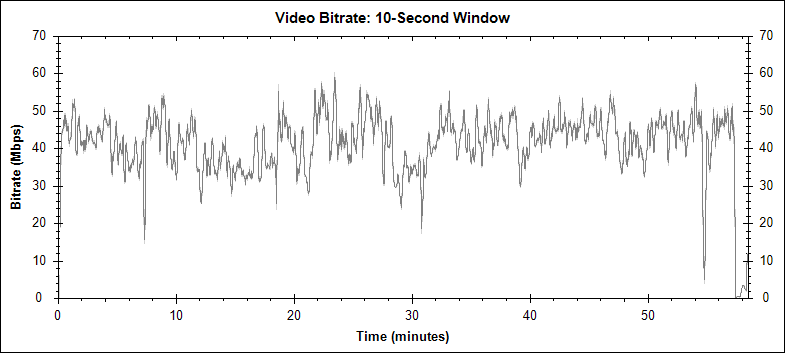 Video Bitrate - Płyta 4K Ultra-HD Film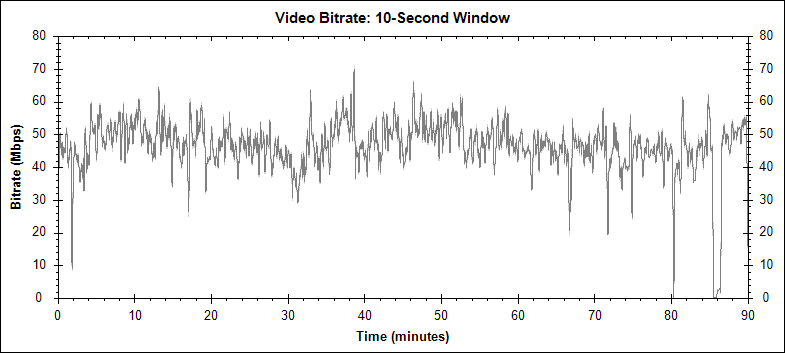 Okładka 4K Ultra-HD