It appears that you are using an ad-blocking program (Adblock).
Please disable Adblock so that we can provide you with valuable content.
---
Wygląda na to, że używasz programu blokującego reklamy (Adblock).
Prosimy o wyłączenie Adblocka, abyśmy mogli dostarczać Ci wartościowe treści.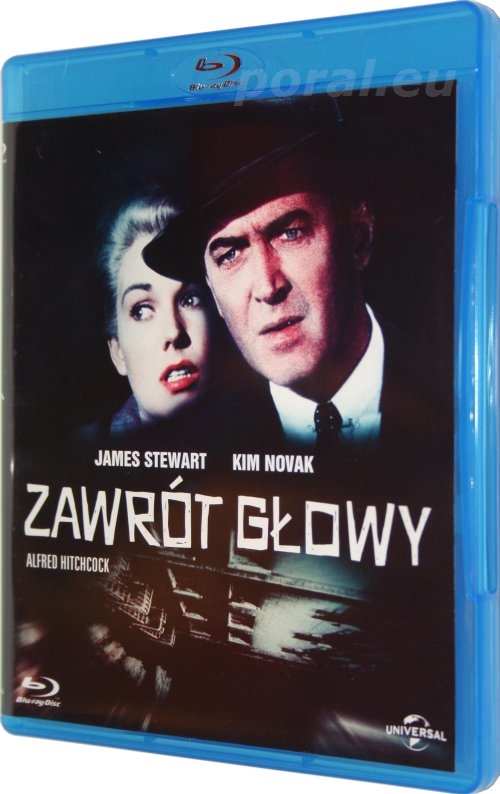 Blu-ray
- Zawrót Głowy - Vertigo (1958) EAN:
5900058302413

---
Zawrót Głowy
Vertigo
---
Gatunek:
Melodramat
/
Thriller
/
Psychologiczny
Reżyser: Alfred Hitchcock
Scenariusz: Samuel A. Taylor, Alec Coppel
Cinematography / Zdjęcia: Robert Burks
Muzyka: Bernard Herrmann
Cast / Obsada: James Stewart, Kim Novak, Barbara Bel Geddes, Tom Helmore, Henry Jones, Raymond Bailey, Ellen Corby, Konstantin Shayne, Lee Patrick, David Ahdar, Isabel Analla, Jack Ano, Margaret Bacon, John Benson, Margaret Brayton, Paul Bryar, Steve Conte, Jean Corbett, Bruno Della Santina, Roxann Delman, Molly Dodd, Bess Flowers, Joanne Genthon, Don Giovanni, Roland Gotti, Victor Gotti, Fred Graham, Buck Harrington, Alfred Hitchcock, Art Howard, Catherine Howard, June Jocelyn, David McElhatton, Lyle Moraine, Forbes Murray, Miliza Milo
Dystrybucja w Polsce:
Tim Film Studio
Studio:
Universal Pictures
Data produkcji: 1958
Numer katalogowy: 25659/G52/R0
(PL - Polska)
okładka w języku polskim
EAN: 5900058302413
EAN: 5900058302000 -
Alfred Hitchcock Arcydzieła Mistrza
(139,99 zł Media Markt 31.01.2013)
Dostępny w sprzedaży:
22.12.2012
Czas: 02:08:27
Audio Formats / Dźwięk:

DTS-HD Master Audio
5.1 angielski

DTS 2.0 portugalski (448 kbps)

DTS 2.0 czeski (448 kbps)

DTS 2.0 węgierski (448 kbps)

DTS 2.0 hiszpański (448 kbps)

DTS 2.0 polski
(lektor)
(448 kbps)

DTS 2.0 rosyjski (448 kbps)
DTS 2.0 tajski (448 kbps)

DTS 2.0 turecki (448 kbps)

Dolby Digital 2.0 angielski komentarze (192 kbps)
Subtitles / Napisy:
Aspect Ratio: 16:9 - 1.85:1
Academy Flat
(1080p / 23,976 fps / High Definition)
Interaktywne menu w języku: angielskim, portugalskim, hiszpańskim, rosyjskim.
BD-Info Raport

[ + ]
Rozmiar Filmu: 36,38 GB z Audio
Video codek:
VC-1
Region:
A-B-C
Typ płyty:
43,19 GB
Blu-ray Disc (dwuwarstwowa)
Supplements / Materiały dodatkowe:
- Audio Commentary: Only one feature commentary is available: a solo track with filmmaker William Friedkin. The second previously available commentary with associate producer Herbert Coleman and restoration team leads Robert A. Harris and James C. Katz is nowhere to be found.
- Obsessed with Vertigo: New Life for Hitchcock's Masterpiece (SD, 29 minutes): From AMC comes this Harrison Engle documentary, introduced by Vertigo restorer Robert A. Harris and restoration producer James C. Katz. Among those who sit down to talk about the film are Harris and Katz (of course), filmmaker Martin Scorsese, Hitch's daughter Pat Hitchcock O'Connell, associate producer Herbert Coleman, screenwriter Samuel Taylor and actresses Kim Novak (Madeleine/Judy) and Barbara Bel Geddes (Midge).
- Partners in Crime: Hitchcock's Collaborations (SD, 55 minutes): Four featurettes focus on Hitch's collaborations: "Saul Bass: Title Champ" (opening credits), "Edith Head: Dressing the Master's Movies" (costumes), "Bernard Herrmann: Hitchcock's Maestro" (music) and "Alma: The Master's Muse" (Hitchcock's partnership with his wife).
- Hitchcock and Truffaut Interview Excerpts (SD, 14 minutes): Excerpts from filmmaker Francois Truffaut's 1962 interview sessions with Hitchcock (for his book, the aptly titled "Hitchcock") are set to a montage of clips and stills from the film.
- 100 Years of Universal: The Lew Wasserman Era (HD, 9 minutes): Super agent turned visionary Lew Wasserman put power (and opportunity) in his actors' pockets and changed the business, all before purchasing the Paramount library, bringing Hitchcock to television and, ultimately, acquiring a major studio. That studio ? Universal.
- Foreign Censorship Ending (SD, 2 minutes): An extended ending tacked on for the film's overseas release.
- The Vertigo Archives (SD, 69 minutes): Art director Henry Bumstead's sprawling production portfolio drawings.
- Theatrical and Restoration Trailers (SD, 4 minutes)
Opis fabuły:
Akcja filmu rozgrywa się w San Francisco. James Stewart w roli cierpiącego na lęk wysokości detektywa, wynajętego by śledzić żonę przyjaciela, która ma skłonności samobójcze (Kim Novak). Kiedy pewnego dnia udaje mu się uratować ją przed skokiem do zatoki, uświadamia sobie, że ta piękna, tajemnicza kobieta stała się obiektem jego obsesyjnego pożądania.
Video Bitrate - Płyta Blu-ray Film