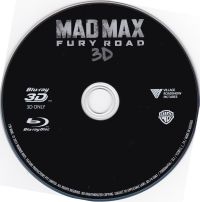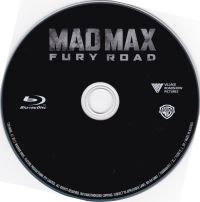 ---
Tytuł polski:
Mad Max: Na Drodze Gniewu 3D

Original Title / Tytuł oryginalny
Mad Max: Fury Road 3D
---
Gatunek:
Sensacyjny
/
Science-Fiction
Reżyser: George Miller
Scenariusz: Nick Lathouris, Brendan McCarthy, George Miller
Cinematography / Zdjęcia: John Seale
Muzyka: Junkie XL
Cast / Obsada: Tom Hardy, Charlize Theron, Nicholas Hoult, Hugh Keays-Byrne, Rosie Huntington-Whiteley, Zoë Kravitz, Riley Keough, Josh Helman, Nathan Jones, Megan Gale, Angus Sampson, Abbey Lee, John Howard, Courtney Eaton, Richard Carter
Dystrybucja w Polsce:
Galapagos
Studio:
Warner Bros.
Data produkcji: 2015
Numer katalogowy: Z15S GBS Y33813
(PL - Polska)
okładka w języku polskim
EAN: 7321999338138
EAN: 7321999338725
Mad Max Antologia (4 Blu-ray + 1 DVD)
Dostępny w sprzedaży:
25.09.2015
Czas: 02:00:23
Audio Formats / Dźwięk:

Dolby Atmos
(Compatible Dolby TrueHD 7.1) angielski

Dolby Digital 5.1 czeski (448 kbps)

Dolby Digital 5.1 hinduski (448 kbps)

Dolby Digital 5.1 węgierski (448 kbps)

Dolby Digital 5.1 polski
(lektor)
Piotr Borowiec (Tekst: Jakub Kowalczyk) (448 kbps)

Dolby Digital 5.1 rosyjski (448 kbps)
Dolby Digital 5.1 tajski (448 kbps)

Dolby Digital 2.0 turecki (192 kbps)
Subtitles / Napisy:
Aspect Ratio: 16:9 - 2.40:1
Anamorphic Scope
(1080p / 23,976 fps / High Definition)
Interaktywne menu w języku: angielskim
BD Info Raport Płyta 1
BD Info Raport Płyta 2
Rozmiar Filmu: 39,04 GB z Audio
Video codek 2D:
MPEG-4 AVC
Video codek 3D:
MPEG-4 MVC
Region:
A-B-C
Typ płyty 3D:
39,78 GB
Blu-ray Disc (dwuwarstwowa)
Typ płyty 2D:
42,21 GB
Blu-ray Disc (dwuwarstwowa)
Supplements / Materiały dodatkowe:
Płyta Blu-ray 2D
MPEG-4, HD (1920x1080) Dolby Digital 2.0 angielski (192 kbps)
napisy: polskie i inne.
- Maximum Fury: Filming Fury Road (00:28:38)
- Mad Max: Fury on Four Wheels (00:22:37)
- The Road Warriors: Max and Furiosa (00:11:18)
- The Tools of the Wasteland (00:14:26)
- The Five Wives: So Shiny, So Chrome (00:11:11)
- Fury Road: Crash & Smash (00:04:02)
Deleted Scenes
- I Am a Milker (00:00:32)
- Turn Every Grain of Sand! (00:01:49)
- Let's Do It (00:00:59)
Opis: Prześladowany przez demony przeszłości Mad Max uważa, że najlepszym sposobem na przeżycie jest samotna wędrówka po świecie. Zostaje jednak wciągnięty do grupy uciekinierów przemierzających tereny spustoszone przez wojnę nuklearną (Wasteland) w pojeździe zwanym War Rig, prowadzonym przez Imperatorkę Furiosę. Uciekają z Cytadeli sterroryzowanej przez Immortana Joe'ego, któremu odebrano coś wyjątkowego. Rozwścieczony watażka zwołuje wszystkie swoje bandy i wytrwale ściga buntowników, podczas gdy na drogach toczy się wysokooktanowa wojna.
Screen Menu [3D Blu-ray]
Screen [3D Blu-ray]
[MVC] Video Bitrate
[AVC] Video Bitrate
Okładka [Blu-ray]
Zwiastun [Youtube]
Blu-ray
- Mad Max: Na Drodze Gniewu 3D - Mad Max: Fury Road 3D (2015) EAN: 7321999338138