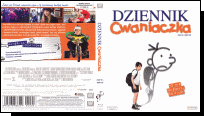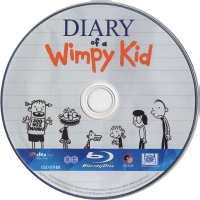 /10

Oceniło: 0
Familijny
/
Komedia
Reżyser: Thor Freudenthal
Scenariusz: Jackie Filgo, Jeff Filgo, Jeff Judah, Gabe Sachs
Cinematography / Zdjęcia: Jack N. Green
Muzyka: Theodore Shapiro
Cast / Obsada: Zachary Gordon, Robert Capron, Rachael Harris, Steve Zahn, Connor Fielding, Owen Fielding, Devon Bostick, Chloe Moretz, Karan Brar, Grayson Russell, Laine MacNeil, Alex Ferris, Andrew McNee, Belita Moreno, Rob LaBelle, Nicholas Carey, Samuel Patrick Chu, Donnie MacNeil, Samantha Page, Ava Hughes, Cainan Wiebe, Cole Heppell, Harrison Houde, Severin Korfer, Jennifer Clement, Karin Konoval, Raugi Yu, Kaye Capron, Jake D. Smith, Owen Best, Talon Dunbar, Naomi Dane, Willem Jacobson, Maxine Miller, Taya Clyne, Sean Bygrave
Dystrybucja w Polsce:
Imperial-CinePix
Studio:
20th Century Fox
Data produkcji: 2010
Numer katalogowy: 41774BD-PL
(PL - Polska)
okładka w języku polskim
EAN: 5903570066559 (29,99 zł dvdmax.pl 18.03.2019)
Dostępny w sprzedaży:
08.04.2011
Polska: 19.04.2011
Czas: 01:32:33
Audio Formats / Dźwięk:

DTS-HD Master Audio
5.1 angielski

DTS 5.1 niemiecki (768 kbps)

DTS 5.1 włoski (768 kbps)

DTS 5.1 rosyjski (768 kbps)

DTS 5.1 hiszpański (768 kbps)

Dolby Digital 5.1 polski
(lektor)
(448 kbps)

Dolby Digital 2.0 angielski komentarze (224 kbps)
Subtitles / Napisy:
Aspect Ratio: 16:9 - 1.85:1
Academy Flat
(1080p / 23,976 fps / High Definition)
Interaktywne menu w języku: angielskim, niemieckim, włoskim, rosyjskim, hiszpańskim.
BD-Info Raport [←→]
Rozmiar Filmu: 29,34 GB z Audio
Video codek:
MPEG-4 AVC
Region:
A-B-C
Typ płyty:
31,62 GB
Blu-ray Disc (dwuwarstwowa)
Supplements / Materiały dodatkowe:
- Feature Commentary with Director Thor Freudenthal and Writer Gabe Sachs (Off/On)
MPEG-4, HD (1920x1080) Dolby Digital 2.0 angielski (192 kbps)
napisy: niemieckie, włoskie, rosyjskie, hiszpańskie, polskie.
Deleted Diary Pages
- Fregley's Scavanger Hunt (00:02:59)
- Chirag's Trail of Tears (00:02:39)
- Fregley's Shuffle (00:00:49)
- Mom Drops Greg Off at School (00:00:58)
- Greg and Rawley Jump Over the Wall (00:00:29)
- Mr. Winsky's Safety Patrol Assignment (00:00:39)
- Mom Suggests a Friendship Card (00:00:47)
- Greg Meets Fregley's Mom (00:00:40)
- Rowley's Lost Zoo-Wee Mama Cartoons (00:00:41)
MPEG-4, HD (1920x1080) Dolby Digital 5.1 angielski (640 kbps)
- Theatrical Trailer (00:01:52)
Screen Menu [Blu-ray]
Opis: Dla Grega Heffley'a (Zachary Gordon) szkoła średnia to najgłupszy pomysł na świecie. To miejsce z setkami towarzyskich pułapek, znęcania się i wygnań ze szkolnej kawiarenki. Żeby przetrwać, niekończącą się gehennę i osiągnąć uznanie na jakie zasługuje, Greg musi wynaleźć sposób na stanie się popularnym. Swoje pomysły zapisuje na papierze, czyli w swoim pamiętniku - "To nie pamiętnik , to dziennik" nalega Greg który preferuje bardziej męską definicję. Jego dziennik jest wypełniony opiniami, myślami, opowieściami z życia rodziny i troskami związanymi ze szkołą. "Pewnego dnia gdy stanę się sławny" - pisze Greg - "będę miał lepsze rzeczy do roboty niż odpowiadanie ludziom na głupie pytania przez cały dzień". Tak właśnie narodził się "Diary of a Wimpy Kid" autorstwa Twentieth Century Fox.
Screen [Blu-ray]
Video Bitrate [Blu-ray]
Okładka [Blu-ray]
Blu-ray
- Dziennik Cwaniaczka - Diary of a Wimpy Kid (2010) EAN: 5903570066559
DVD
- Dziennik Cwaniaczka - Diary of a Wimpy Kid (2010) EAN: 5903570154317