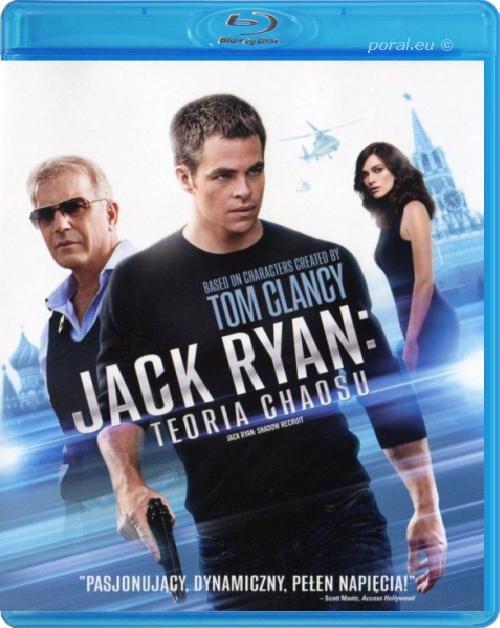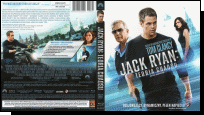 ---
Tytuł polski:
Jack Ryan: Teoria Chaosu

Original Title / Tytuł oryginalny
Jack Ryan: Shadow Recruit
---
Gatunek:
Thriller
/
Akcja
Reżyser: Kenneth Branagh
Scenariusz: Adam Cozad, David Koepp
Cinematography / Zdjęcia: Haris Zambarloukos
Muzyka: Patrick Doyle
Cast / Obsada: Keira Knightley, Chris Pine, Nonso Anozie, Kevin Costner, Kenneth Branagh, Colm Feore, Gemma Chan, Karen David, David Paymer, Hannah Taylor Gordon, Nichola Fynn, Julisita Salcedo, Lee Asquith-Coe, Aleksandar Aleksiev, Peter Andersson, Alec Utgoff, Simon DeSilva, Paul Blackwell, Deborah Rosan, Matt Rippy, Tom Swacha, Ancuta Breaban, Teresa Mahoney, Jeff Mash, John Duggan, Lee Nicholas Harris, Marco Flammer, Jim Gunter, Nathan Wiley, Lucas Hansen, Isobel Pravda, Georg Nikoloff, Montego Glover, Jorge Leon Martinez, Akie Kotabe, Parker Sawyers
Dystrybucja w Polsce:
Imperial-CinePix
Studio:
Paramount Pictures
/ Skydance Productions / Buckaroo Entertainment / Di Bonaventura Pictures / Etalon Film / Mace Neufeld Productions / Translux
Data produkcji: 2014
Steelbook (Opakowanie Kolekcjonerskie Metalowe) niedostępne w Polsce
Numer katalogowy: PAR 138371BD
(PL - Polska)
okładka w języku polskim
EAN: 5903570070099
Dostępny w sprzedaży:
16.05.2014
Polska 18.06.2014
Czas: 01:45:32
Audio Formats / Dźwięk:

DTS-HD Master Audio
7.1
angielski

Dolby Digital 5.1 czeski (640 kbps)

Dolby Digital 5.1 węgierski (640 kbps)

Dolby Digital 5.1 polski
(lektor)
Maciej Gudowski (Tekst: Anna Wichlińska Kacprzak) (640 kbps)

Dolby Digital 5.1 rosyjski (640 kbps)
Dolby Digital 5.1 tajski (640 kbps)

Dolby Digital 5.1 turecki (640 kbps)

Dolby Digital 2.0 angielski komentarze (224 kbps)
Subtitles / Napisy:
Aspect Ratio: 16:9 - 2.40:1
Anamorphic Scope
(1080p / 23,976 fps / High Definition)
Interaktywne menu w języku: angielskim
BD-Info Raport [0.09 MB]
Rozmiar Filmu: 31,12 GB z Audio
Video codek:
MPEG-4 AVC
Region:
A-B-C
Typ płyty:
41,90 GB
Blu-ray Disc (dwuwarstwowa)
Supplements / Materiały dodatkowe:
- Commentary by Kenneth Branagh and Lorenzo di Bonaventura (Off/On)
MPEG-4, HD (1920x1080) Dolby digital 2.0 angielski (224 kbps)
napisy: polskie i inne.
- Jack Ryan: The Smartest Guy in the Room (00:13:37)
- Sir Kenneth Branagh: The Tsar of Shadow Recruit (00:09:49)
- Jack Ryan: A Thinking Man of Action (00:05:20)
- Old Enemies Return (00:21:13)
Play All With Commentary by Kenneth Branagh and Lorenzo di Bonaventura (Off/On)
- Deleted & Extended Scenes (00:05:03)
Screen Menu [Blu-ray]
Opis: Jack Ryan (Chris Pine) to młody analityk finansowy pracujący w Moskwie dla jednego z najpotężniejszych oligarchów - Viktora Stazova (Kenneth Branagh). Z czasem odkrywa, że jego pracodawca w porozumieniu z rosyjskim rządem planuje przeprowadzić finansowy atak terrorystyczny na Stany Zjednoczone, by doprowadzić do gospodarczej katastrofy. Narażając życie, Jack próbuje zapobiec realizacji spisku...
Screen [Blu-ray]
Video Bitrate [Blu-ray]
Lektor [Tłumaczenie]
Okładka [Blu-ray]
Zwiastun [Youtube]
Blu-ray
- Jack Ryan: Teoria Chaosu - Jack Ryan: Shadow Recruit (2014) EAN: 5903570070099