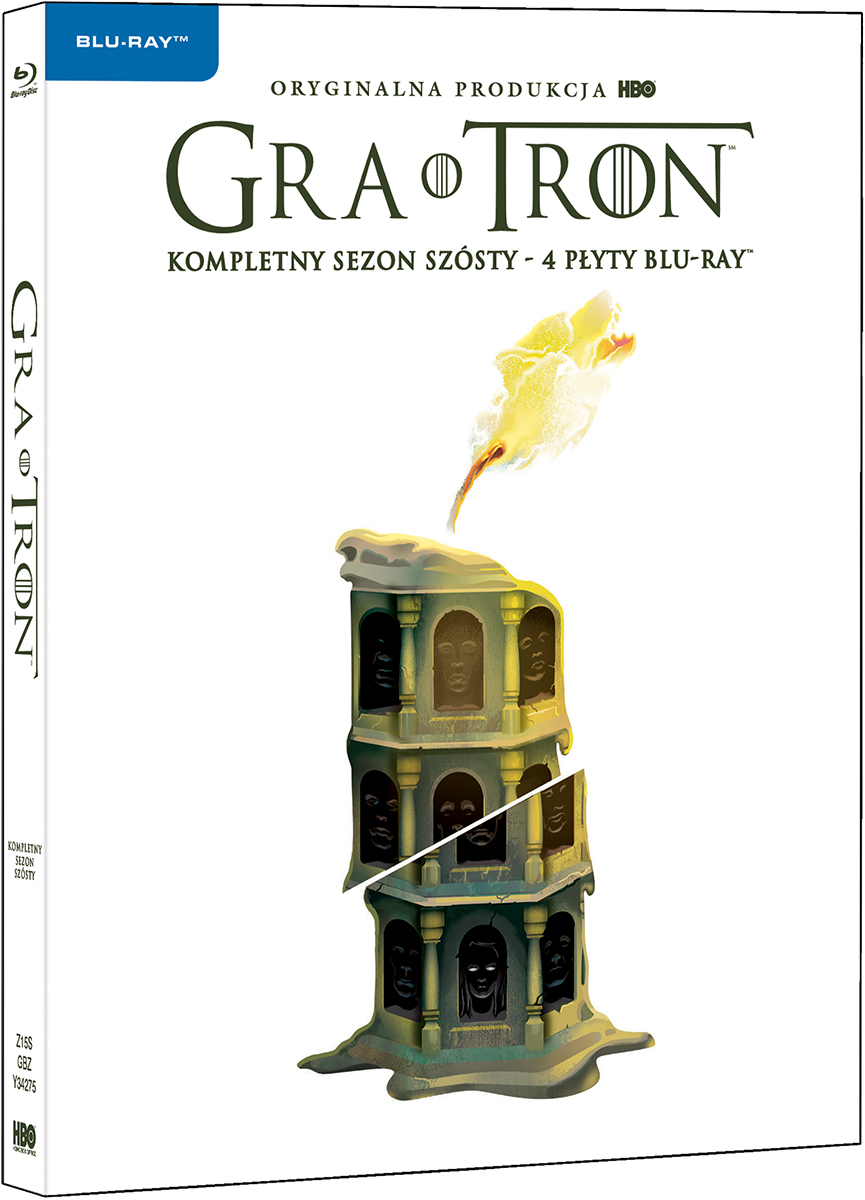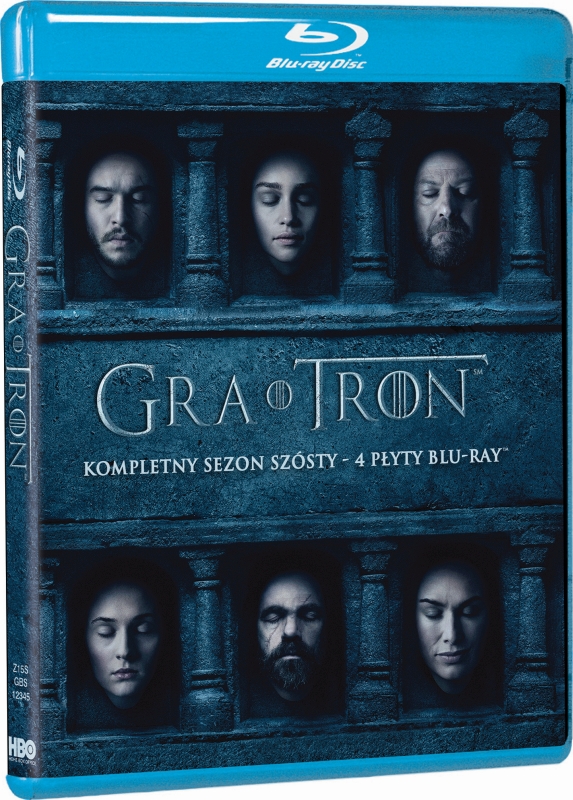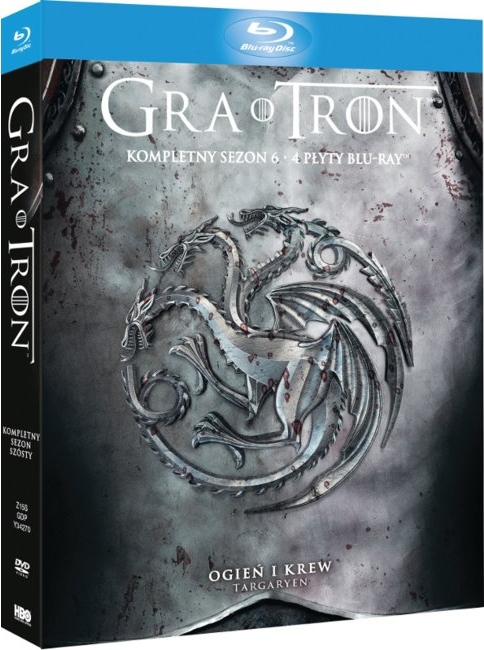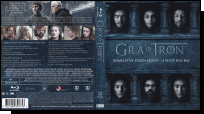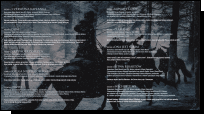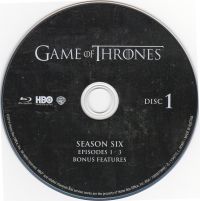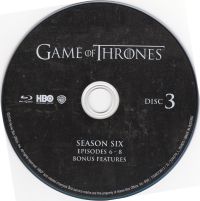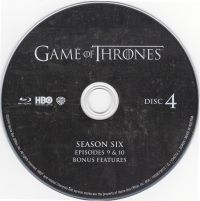 ---
Tytuł polski:
Gra o Tron, Sezon 6
Original Title / Tytuł oryginalny
Game of Thrones Season Sixth
---
Gatunek:
Dramat
/
Fantasy
/
Przygodowy
Reżyser: Michael Slovis
Scenariusz: David Benioff, D.B. Weiss
Cinematography / Zdjęcia: Jonathan Freeman, Sam McCurdy, Kramer Morgenthau, Matthew Jensen, Alik Sakharov, Fabian Wagner, Chris Seager, P.J. Dillon, Anette Haellmigk, Marco Pontecorvo, Martin Kenzie, David Katznelson, Robert McLachlan, David Franco, Gregory Middleton
Muzyka: Ramin Djawadi
Cast / Obsada: Alan Taylor, Brian Kirk, Daniel Minahan, Timothy Van Patten, David Nutter, David Petrarca, Lena Headey, Jack Gleeson, Michelle Fairley, Emilia Clarke, Iain Glen, Sophie Turner, Maisie Williams, Alfie Allen, Peter Dinklage, Sean Bean, Nikolaj Coster-Waldau, Aidan Gillen, Kit Harington, Ron Donachie, Isaac Hempstead Wright, Jason Momoa, Richard Madden, Rory McCann, Julian Glover, Amrita Acharia, Mark Addy, Donald Sumpter, Conleth Hill, Jerome Flynn, Ian McElhinney, Susan Brown, Mark Stanley, Josef Altin, Luke McEwan, Dar Salim, Roxanne McKee, Elyes Gabel, Harry Lloyd, Jamie Sives, Francis Magee, James Cosmo
Dystrybucja w Polsce:
Galapagos
Producent: HBO
Data produkcji: 2016
Numer katalogowy: Z15S GBS Y34275
(PL - Polska)
okładka w języku polskim
EAN: 7321999342753
EAN: 7321932342758 - Edycja Specjalna - 14.11.2018
Dostępny w sprzedaży:
16.11.2016
Czas: 558 min.
Audio Formats / Dźwięk:

Dolby Atmos
(Compatible Dolby TrueHD 7.1) angielski

Dolby Digital 5.1 angielski (448 kbps)

Dolby Digital 5.1 włoski (448 kbps)

Dolby Digital 5.1 rosyjski (448 kbps)

Dolby Digital 2.0 czeski (256 kbps)

Dolby Digital 2.0 węgierski (256 kbps)

Dolby Digital 2.0 polski
(lektor)
(256 kbps)

Dolby Digital 2.0 angielski (192 kbps)
Subtitles / Napisy:
Aspect Ratio: 16:9 - 1.78:1
Academy Flat
(1080p / 23,976 fps / High Definition)
Interaktywne menu w języku: angielskim, włoskim, rosyjskim
BD Info Raport Płyta 1
BD Info Raport Płyta 2
BD Info Raport Płyta 3
BD Info Raport Płyta 4
Video codek:
MPEG-4 AVC
Region:
A-B-C
Typ płyty 1:
44,75 GB
Blu-ray Disc (dwuwarstwowa)
Typ płyty 2:
34,41 GB
Blu-ray Disc (dwuwarstwowa)
Typ płyty 3:
41,34 GB
Blu-ray Disc (dwuwarstwowa)
Typ płyty 4:
45,63 GB
Blu-ray Disc (dwuwarstwowa)
Supplements / Materiały dodatkowe:
Disc 1
- In Episode Guides
- Audio Commentaries:
Episode 1 with Director Jeremy Podeswa, Director of Photography Greg Middleton and Daniel Portman (Podrick Payne)
Episode 2 with Writer Dave Hill, Michael McElhatton (Roose Bolton), Iwan Rheon (Ramsay Bolton), Liam Cunningham (Davos Seaworth) and Ben Crompton (Dolorous Edd)
Episode 3 with Director Daniel Sackheim, Production Designer Deborah Riley, and Dean-Charles Chapman (Tommen Baratheon)
Screen Menu [Blu-ray]
Disc 2
- In Episode Guides
- Audio Commentaries:
Episode 4 with Nathalie Emmanuel (Missandei, Iain Glen (jorah Mormont), and Jacob Anderson (Grey Worm)
Episode 5 with Gemma Whelan (Yara Greyjoy), Pilou Asbaek (Euron Greyjoy), Ellie Kendrick (Meera Reed) and Kristian Nairn (Hodor)
Episode 5 with Prosthetics Supervisor Barrie Gower, Camera Operators Chris Plevin and Ben Wilson and Exectuive Producer Bernadette Caulfield)
- Recreating the Dothraki World (1080p; 20:15) documents the efforts to revive elements that hadn't been seen since Game of Thrones: The Complete First Season.
Disc 3
- In Episode Guides
- Audio Commentaries:
Episode 6 with Director Jack Bender, Director of Photography Jonathan Freeman, John Bradley (Samwell Tarly) and Hannah Murray (Gilly)
Episode 7 with Producer/Writer Bryan Cogman, Ian McShane (Septon Ray), and Natalie Dormer (Margaery Tyrell)
Episode 8 with Director Mark Mylod, Essie Davis (Lady Crane) and Nikolaj Coster-Waldau (Jaime Lannister)
Disc 4
- In Episode Guides
- Audio Commentaries:
Episode 9 with Director Miguel Sapochnik, Sophie Turner (Sansa Stark), and Kit Harington (Jon Snow) Episode 9 with Director of Photography Fabian Wagner, Visual Effects Producer Steve Kullback, and Visual Effects Supervisor Joe Bauer Episode 10 with Executive Producers/Writers David Benioff and D.B. Weiss, Lena Headey (Cersei lannister), and Peter Dinklage (Tyrion Lannister) Episode 10 with Special Effects Supervisor Sam Conway, Camera Operator Sean Savage and Producer Chris Newman
- The Battle of the Bastards (00:30:01)
- 18 Hours at the Paint Hall (00:28:17)
- Histories and Lore offer what are basically narrated animated tours through the following subjects:
The Old Way (00:04:25)
The Kingsmoot (00:03:45) The Summer Sea (00:04:05)
War of the Ninepenny Kings (00:02:49)
The Great Tourney at Harrenhal (00:06:07)
Robert's Rebellion (00:06:07)
Vaes Dothrak (00:03:56)
The Dothraki (00:04:43)
Northern Allegiances to House Stark (00:04:56)
Children of the Forest vs. The First Men (00:04:43)
Brotherhood Without Banners (00:03:56)
Oldtown (00:05:35)
House Dayne (00:04:11)
The Little Birds (00:03:12)
Knights of the Vale (00:05:35)
House Tarly (00:04:35)
Riverrun (00:03:35)
Great Sept of Baelor (00:04:23)
- Deleted Scenes (00:11:08)
Opis: Adaptacja sagi fantasy George'a R.R. Martina, w której siedem rodów prowadzi bezwzględną walkę o władzę. W piątym sezonie Jon Snow stara się pogodzić obowiązki w Straży Nocnej ze służbą na rzecz Stannisa, Cersei chce utrzymać władzę w Królewskiej Przystani, Jaimie wyrusza na sekretną misję, a zbiegły Tyrion znajduje w swoim życiu nowy cel.
Screen [Blu-ray]
Video Bitrate [Blu-ray]
Video Bitrate [Blu-ray]
Video Bitrate [Blu-ray]
Video Bitrate [Blu-ray]
Okładka [Blu-ray]
Blu-ray
- Gra o Tron, Sezon 6 - Game of Thrones Season Sixth (2016) EAN:
7321999342753
DVD
- Gra o Tron, Sezon 6 - Game of Thrones Season Sixth (2016) EAN:
7321932342703