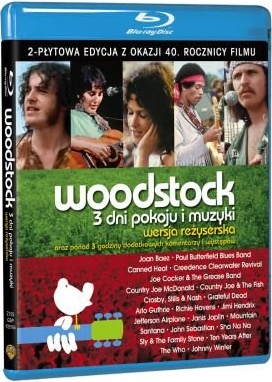 ---
Screen
Video Bitrate
Okładka
Gdzie Kupić?
Komentarze
---
Tytuł polski:
Woodstock: 3 Dni Pokoju i Muzyki

Original Title / Tytuł oryginalny
Woodstock: 3 Days of Pease & Music
---
Gatunek:
Muzyczny
/
Dokumentalny
Reżyser: Michael Wadleigh
Cinematography / Zdjęcia: David Myers
Muzyka: John Lennon, Jimi Hendrix, Sly Stone
Cast / Obsada: Jimi Hendrix, Janis Joplin, Joan Baez, Canned Heat, Joe Cocker, Country Joe and the Fish, The Who, Crosby Stills & Nash, Arlo Guthrie, Richie Havens, Jefferson Airplane, Santana, John Sebastian, Sha-Na-Na, Sly and the Family Stone, Ten Years After
Dystrybucja w polsce:
Galapagos
Producent: Warner Bros. / Bob Maurice
Data produkcji: 1970
Numer katalogowy: Z15S GBP Y25764
(PL - Polska)
okładka w języku polskim
EAN: 7321999257644
Dostępny w sprzedaży:
19.06.2009
Czas: 03:44:19
Audio Formats / Dźwięk:

Dolby TrueHD
5.1 angielski

Dolby Digital 5.1 angielski (640 kbps)
Subtitles / Napisy: japońskie, angielskie, francuskie, niemeickie, włoskie, hiszpańskie, holenderskie, chińskie, koreańskie, portugalskie, duńskie, fińskie, norweskie, polskie, szwedzkie, tajskie.
Aspect Ratio: 16:9 - 2.40:1
Anamorphic Scope
(1080p / 23.976 fps / High Definition)
Interaktywne menu w języku: angielskim
BD Info Raport Płyta 1
BD Info Raport Płyta 2
Rozmiar Filmu: 36,23 GB z Audio
Video codek:
VC-1
Region:
A-B-C
Typ płyty 1:
36,74 GB
Blu-ray Disc (dwuwarstwowa)
Typ płyty 2:
??,?? GB
Blu-ray Disc (dwuwarstwowa)
Supplements / Materiały dodatkowe:
Includes Preformances As Never Before Seen By:
Joan Baez: One Day at a Time
Country Joe McDonald: Flying High
Santana: Evil Ways
Canned Heat: I'm Her Man
Canned Heat: On the Road Again
Mountain: Beside the Sea
Mountain: Southbound Train
Grateful Dead: Turn on Your Love Light
Grateful Dead: Mama Tried
Creedence Clearwater Revival: Born on the Bayou
Creedence Clearwater Revival: I Put a Spell on You
Creedence Clearwater Revival: Keep on Chooglin'
The Who: We're Not Gonna Take It
The Who: My Generation
Jefferson Airplane: 3/5 of a Mile in 10 Seconds
Jefferson Airplane: Volunteers
Joe Cocker: Something's Coming On
Johnny Winter: Mean Town Blues
Paul Butterfield: Morning Sunrise
Sha Na Na: Teen Angel
Country Joe and the Fish: No So Sweet Martha Lorrain
Exclusive Edition:
Canned Heat: Woodstock Boogie
The Who: Sparks
Jimi Hendrix: Spanish Castle Magic
Woodstock: From Festival to Feature
Comprehensive featurette gallery chronicling the festival and the filming from start to finish.
Over 15 Segments, including
Hugh Hefner's interview with Director Michael Wadleigh: Excerpts from the 1970s show Playboy After Dark
4 featurettes exlusive to this disc:
- Reflections of an Era: Director Michael Wadleigh on Two Signature 1969 Events: Woodstock and the Moon Landing
- A Farm in Bethel: Reflections on Landholder Max Yasgur's Legacy
- Cinematic Revolution: The Origins of the Film's 3-Panel Look
- Woodstock Generation: Sons and Daughters of the 1960s Share Their Memories
&nbsp
&nbsp
&nbsp