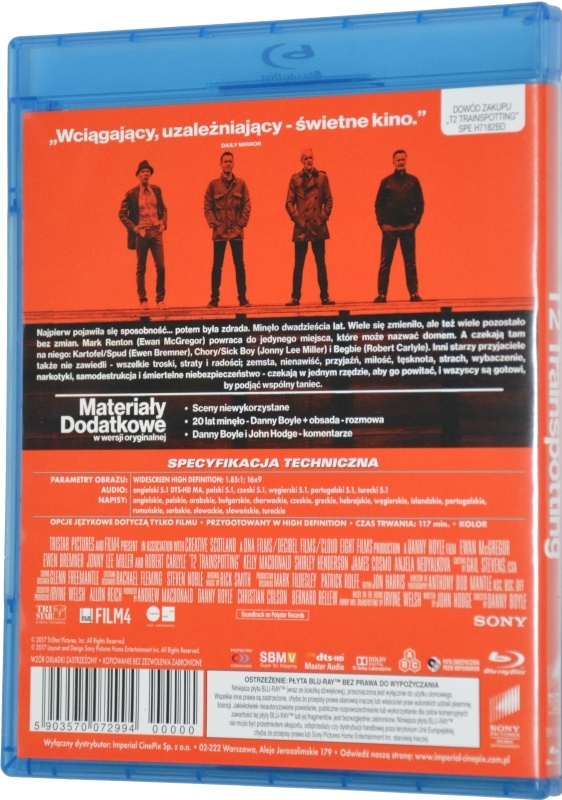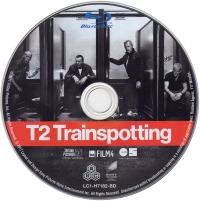 ---
Tytuł polski:
T2: Trainspotting

Original Title / Tytuł oryginalny
T2: Trainspotting
---
Gatunek:
Dramat
Director / Reżyser: Danny Boyle
Writer / Scenariusz: John Hodge, Irvine Welsh
Cinematography / Zdjęcia: Anthony Dod Mantle
Music / Muzyka: Allan Jenkins
Cast / Obsada: Ewan McGregor, Jonny Lee Miller, Robert Carlyle, Ewen Bremner, Kelly Macdonald, Anjela Nedyalkova, Shirley Henderson, Irvine Welsh, Simon Weir, Steven Robertson, Gordon Kennedy, Kevin McKidd, Amy Manson, Pauline Lynch, Tereza Duskova, Logan Gillies, Ben Skelton, Aiden Haggarty, Daniel Smith, Elijah Wolf, John Kazek, Charlie Hardie, Scott Aitken, Elek Kish, Lewis Gribben, Dominic Maccoll, Calum Verrecchia, Bradley Welsh, Thierry Mabonga, Atta Yaqub, Christopher Douglas, Pauline Turner, Scot Greenan, James McElvar, Connor McIndoe, Bryan Quinn, Ged Hanley, Neil Thomson, Margaret Cale, Alex Jackson, Tom Urie, Phil Coppola, John Bell, Kyle Fitzpatrick, Eileen Nicholas, Michael Shaw, Lauren Lamb, Devon Lamb, Nebli Basani, Edyta Szewczyk, Fiori Miari, Christopher Mullen, Hamish Haggerty, Daniel Jackson, Svetlana Yancheva, Emil Bonev
Dystrybucja w Polsce:
Imperial-CinePix
Studio:
Sony Pictures Home Entertainment
Data produkcji: 2017
Numer katalogowy: SPE H7182BD
(PL - Polska)
okładka w języku polskim
EAN: 5903570072994 (29,99 zł Media Markt 24.01.2019)
Dostępny w sprzedaży:
09.06.2017
Polska: 31.07.2017
Czas: 01:57:22
Audio Formats / Dźwięk:

DTS-HD Master Audio
5.1 angielski
DTS-HD Master Audio
5.1 portugalski

Dolby Digital 5.1 czeski (640 kbps)

Dolby Digital 5.1 węgierski (640 kbps)

Dolby Digital 5.1 polski
(lektor)
Tomasz Sandak (Tekst: Paweł Włodarek) (640 kbps)
Dolby Digital 5.1 turecki (640 kbps)

Dolby Digital 2.0 angielski komentarze (192 kbps)
Subtitles / Napisy: Stanisław Kapica-Roś
Aspect Ratio: 16:9 - 1.85:1
Academy Flat
(1080p / 23,976 fps / High Definition)
Interaktywne menu w języku: angielskim
BD-Info Raport [→←]
BD-Info Raport [359 KB]
Rozmiar Filmu: 28,79 GB z Audio
Video codek:
MPEG-4 AVC
Region:
A-B-C
Typ płyty:
37,53 GB
Blu-ray Disc (dwuwarstwowa) (40 302 673 920 bajtów)
Supplements / Materiały dodatkowe:
- Commentary with Danny Boyle & John Hodge (Off/On)
MPEG-4, HD (1920x1080) Dolby Digital 2.0 angielski (192 kbps)
napisy: angielskie, portugalskie.
- 20 Years In The Making: A Conversation With Danny Boyle & The Cast (00:24:49)
- Calton Athletic Documentary: Choosing Endorphins Over Addiction (00:04:25)
Deleted Scenes
(All 00:30:11)
- Begbie Walks
- Veronika & Simon
- Spud's Real Friends
- Men Make Easy Fools
- Begbie Surgery
- Take Veronika Home
- Begbie Wakes Up In Hospital
- Renton Visits Gail
- Simon & Veronika Shopping
- RIP Skag Boys
- Supercasino
- Fight at Tynecastle
- Renton At The Airport
- Concerned Citizen
- Pills & Supercasino
- Spud & Gail
- Begbie & Stoddart
- Stoddart Trapped
- What Did That Lawyer Say?
- Feeding Stoddart
- Begbie Calls
- Stoddart Escapes
- Parliament Tea Trolley
- I Like Your Stories
- Stealing iPad
- Train Journey
- Sewn Up and Back to Diane's
- Diane
- The Painting
MPEG-4, HD (1920x1080) Dolby Digital 5.1 angielski (640 kbps)
napisy: portugalskie.
Previews
- Life (2017) (00:02:01)
- Spider-Man: Homecoming (2017) (00:02:17)
- Resident Evil: Vendetta (2017) (00:01:33)
Screen Menu [Blu-ray]
Opis: Druga część kultowego filmu lat dziewięćdziesiątych XX wieku, dzięki której poznamy dalsze losy Marka Rentona (Ewan McGregor). Dowiemy się, czy rzeczywiście udało mu się wyrwać na dobre z brudnego, podziemnego życia Edynburga i heroinowego nałogu, przestępczego półświatka, w którym każdy czyn motywowany jest narkotykowym głodem.
Screen [Blu-ray]
Video Bitrate [Blu-ray]
Okładka [Blu-ray]
Blu-ray
- T2: Trainspotting (2017) EAN: 5903570072994
DVD
- T2: Trainspotting (2017) EAN: 5903570159787