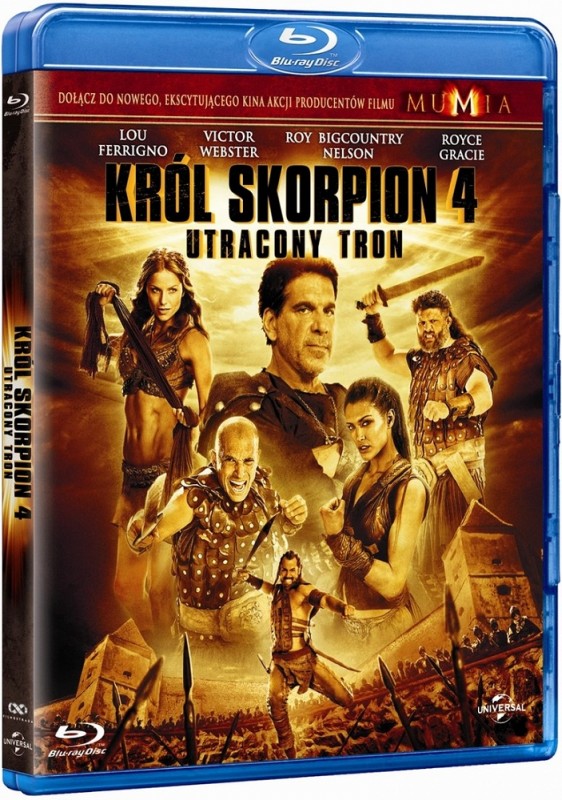 ---
Gdzie Kupić?
Komentarze
---
Tytuł polski:
Król Skorpion 4: Utracony Tron

Original Title / Tytuł oryginalny
The Scorpion King: The Lost Throne / The Scorpion King 4: Quest for Power
---
Gatunek:
Fantasy
/
Przygodowy
Reżyser: Mike Elliott
Scenariusz: Michael D. Weiss
Cinematography / Zdjęcia: Trevor Brown
Muzyka: Stanomir Dragoş
Cast / Obsada: Royce Gracie, Esmé Bianco, Michael Biehn, Barry Bostwick, Stephen Dunlevy, Cowboy Elliott, Grant Elliott, Lou Ferrigno, Leigh Gill, Rodger Halston, Brandon Hardesty, Rutger Hauer, Ellen Hollman, Will Kemp, Roy Nelson, Grant Powell, Antonio Silva, Julian Stone, Eve Torres, Victor Webster, Ian Whyte, Corneliu Ulici
Dystrybucja w polsce:
Filmostrada
Studio:
Universal Pictures
Data produkcji: 2014
Numer katalogowy:
(PL - Polska)
okładka w języku polskim
EAN: 5902115600654
Dostępny w sprzedaży:
23.02.2015
Polska 19.03.2015
Czas: 01:44:51
Audio Formats / Dźwięk:

DTS-HD Master Audio
5.1 angielski
DTS 5.1 portugalski (768 kbps)

DTS 5.1 czeski (768 kbps)

DTS 5.1 węgierski (768 kbps)

DTS 5.1 hiszpański (768 kbps)

DTS 5.1 polski
(lektor)
Marek Lelek (Tekst: Michał Wawszczak) (768 kbps)

DTS 5.1 rosyjski (768 kbps)

DTS 5.1 tajski (768 kbps)

Dolby Digital 2.0 angielski komentarze (768 kbps)
Subtitles / Napisy:
Aspect Ratio: 16:9 - 1.85:1
Academy Flat
(1080p / 23,976 fps / High Definition)
Interaktywne menu w języku: angielskim, portugalskim, rosyjskim
BD-Info Raport [←→]
Rozmiar Filmu: 32,52 GB z Audio
Video codek:
MPEG-4 AVC
Region:
A-B-C
Typ płyty:
40,32 GB
Blu-ray Disc (dwuwarstwowa)
Supplements / Materiały dodatkowe:
MPEG-4, HD (1920x1080) Dolby Digital 2.0 angielski (192 kbps)
napisy: angielskie, portugalskie, hiszpańskie, rosyjskie, chińskie
Deleted Scenes
(All 00:15:23)
- Spear Guards
- Rise of Dragon
- Mathayus Leaves on Camel
- Sorrell Dying
- King Training Fight
- Yannick Considers Peace
- Drazen Confronts Yannick
- Escape - Extended
- Drazen to Crowd - Extended
- Heroes Run-in With Guards
- Horseback Talk After Escape
- Drazen Slaps Gorak
- Valina and Roland Walk & Talk
- Mathayus and Sorrell Walk & Talk
- Gag Reel (00:05:46)
The Making of Scorpion King 4: Quest for Power
(All 00:17:36)
- A Brand New World (00:05:09)
- Great Chemistry (00:06:53)
- Real Fighters, Fake Punches (00:05:45)
- Feature Commentary with Director Mike Elliott and Stars Victor Webster, Barry Bostwick, Ellen Hollman & Will Kemp (Off/On)
Screen Menu [Blu-ray]
Opis: Ruszaj szlakiem nowej ekscytującej przygody, producentów serii "Mumia"! Gdy król Norvanii zostaje zamordowany, Mathayus, legendarny władca Skorpionów – oskarżony o tę zbrodnię - musi zmierzyć się z całym Królestwem Żołnierzy. Mathayus (Victor Webster) i jego jedyni sojusznicy - tajemnicza kobieta i jej niezwykły ojciec - są ostatnią nadzieją na powstrzymanie złego następcy tronu, dążącego do pozyskania wielkiej, odwiecznej i magicznej mocy.
Screen [Blu-ray]
Video Bitrate [Blu-ray]
Okładka [Blu-ray]
Blu-ray
- Król Skorpion 4: Utracony Tron - The Scorpion King: The Lost Throne (2014) EAN: 5902115600654