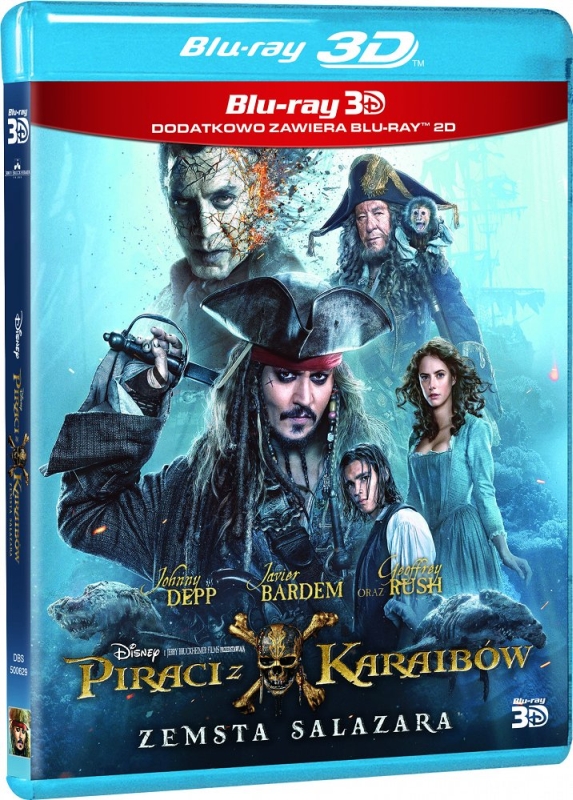 ---
Screen
Video Bitrate
Okładka
Gdzie Kupić?
Komentarze
---
Tytuł polski:
Piraci z Karaibów: Zemsta Salazara 3D

Original Title / Tytuł oryginalny
Pirates of the Caribbean: Dead Men Tell No Tales 3D
---
Gatunek:
Akcja
/
Przygodowy
/
Fantasy
Director / Reżyser: Ronning Joachim, Sandberg Espen
Writer / Scenariusz: Jeff Nathanson
Cinematography / Zdjęcia:Paul Cameron
Music / Muzyka: Geoff Zanelli
Cast / Obsada: Johnny Depp, Javier Bardem, Geoffrey Rush, Brenton Thwaites, Kaya Scodelario, Kevin McNally, Golshifteh Farahani, David Wenham, Stephen Graham, Martin Klebba, Adam Brown, Orlando Bloom, Keira Knightley, Paul McCartney, Danny Kirrane, Rodney Afif, Nico Cortez, Bruce Spence, Brooke Chamberlain, Piper Nairn, James Mackay, Bryan Probets, Alexander Scheer, Michael Dorman, Rohan Nichol, Andreas Sobik, Goran D. Kleut, Zoe Ventoura, James Fraser, Hannah Walters, Jonathan Elsom, K. Todd Freeman, Darcy Laurie
Dystrybucja w polsce:
Galapagos
Studio:
Walt Disney Studios Home Entertainment
Data produkcji: 2017
Numer katalogowy: DBS 500629
(PL - Polska)
okładka w języku polskim
EAN: 7321917506298
Dostępny w sprzedaży:
27.09.2017
Czas: 02:09:07
Aspect Ratio: 16:9 - 2.40:1
Anamorphic Scope
(1080p / 23,976 fps / High Definition)
Interaktywne menu w języku: angielskim, polskim, czeskim
BD-Info Raport (shortcut / skrót)
BD Info Raport Płyta 1
BD Info Raport Płyta 2
Rozmiar Filmu 3D: 38,02 GB z Audio
Video codek 2D:
MPEG-4 AVC
Video codek 3D:
MPEG-4 MVC
Region:
A-B-C
Typ płyty 3D:
39,49 GB
Blu-ray Disc (dwuwarstwowa)
Typ płyty 2D:
39,88 GB
Blu-ray Disc (dwuwarstwowa)
Supplements / Materiały dodatkowe:
Płyta 3D
Płyta 2D
MPEG-4, HD (1920x12080) Dolby Digitla 2.0 angielski (kbps)
napisy: angielskie, czeskie, polskie, greckie.
Za kulisami Nowej Przygody
(All 00:47:50)
- Powrót na Morze (00:03:33)
- Snucie Opowieści z Brentonem i Kayą (00:08:48)
- Matador i Byk: Sekrety Salazara i "Cichej Marii" (00:13:38)
- Pierwszy Oficer (00:08:48)
- Rekiny Widmo (00:03:50)
- Piracka Przygoda Paula McCartneya (00:05:11)
- Dziedzictwo (00:03:59)
- Gafy z Karaibów (00:02:58)
- Foto-dziennik Jerry'ego Bruckheimera (00:01:40)
Sceny Niewykorzystane
(All 00:02:59)
- Rozbójnik (00:00:34)
- Nauczka (00:00:39)
- Wieloryb w Grobie Posejdona (00:00:55)
- Alternatywne Zakończenie "Chłosta" Murtigga i Mullroya (00:00:31)
MPEG-4, HD (1920x12080) Dolby Digitla 5.1 angielski, czeski, polski (448 kbps)
napisy: angielskie, czeskie, polskie, greckie.
Zwiastuny
- Gwiezdne Wojny: Ostatni Jedi - Star Wars: The Last Jedi (00:02:03) (2017)
- Auta 3 - Cars 3 (00:01:32) (2017)
Płyta 3D
MVC
AVC
Płyta 2D