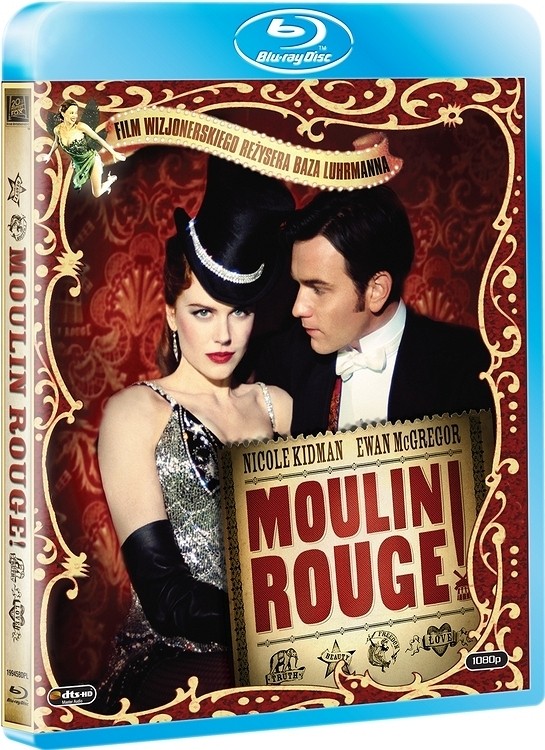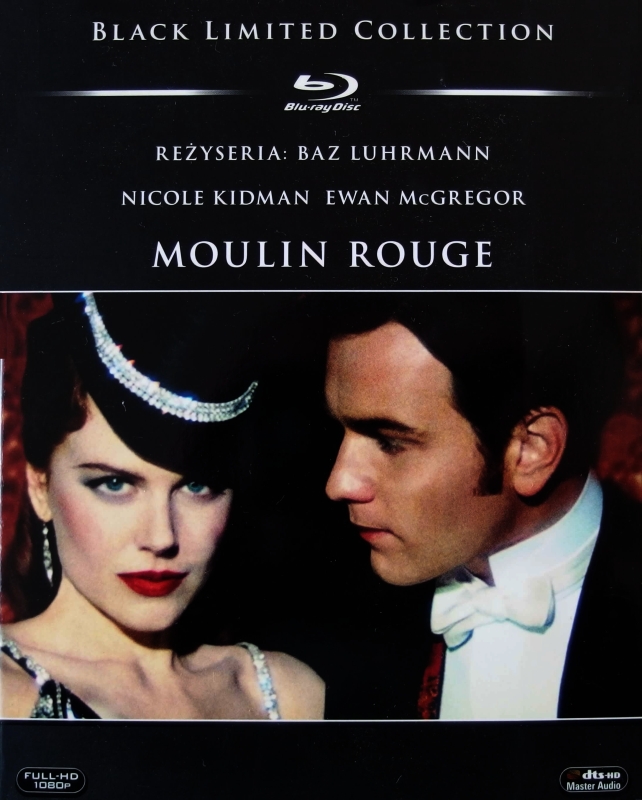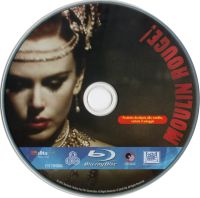 ---
Tytuł polski:
Moulin Rouge!

Original Title / Tytuł oryginalny
Moulin Rouge!
---
Gatunek:
Melodramat
/
Musical
Reżyser: Baz Luhrmann
Scenariusz: Baz Luhrmann, Craig Pearce
Cinematography / Zdjęcia: Donald McAlpine
Muzyka: Craig Armstrong
Cast / Obsada: Nicole Kidman, Ewan McGregor, John Leguizamo, Jim Broadbent, Richard Roxburgh, Garry McDonald, Jacek Koman, Matthew Whittet, Kerry Walker, Caroline O'Connor, Christine Anu, Natalie Jackson Mendoza, Lara Mulcahy, David Wenham, Kylie Minogue, Ozzy Osbourne, Deobia Oparei, Linal Haft, Keith Robinson, Peter Whitford, Norman Kaye, Arthur Dignam, Carole Skinner, Jonathan Hardy, Plácido Domingo, Kiruna Stamell, Anthony Young, Dee Donavan, Johnny Lockwood, Don Reid, Tara Morice, Daniel Scott, Veronica Beattie, Rosetta Cook, Fleur Denny, Lisa Callingham
Dystrybucja w Polsce:
Imperial-CinePix
Studio:
20th Century Fox
Data produkcji: 2001
Numer katalogowy: 19945BDPL
(PL - Polska)
okładka w języku polskim
EAN: 5903570066276 - Black Limited Collection - Slipcover
Dostępny w sprzedaży:
11.10.2010
Polska 25.10.2010
Czas: 02:07:47
Audio Formats / Dźwięk:

DTS-HD Master Audio
5.1 angielski

DTS 5.1 francuski (768 kbps)

DTS 5.1 niemiecki (768 kbps)

DTS 5.1 włoski (768 kbps)

DTS 5.1 hiszpański (768 kbps)

Dolby Digital 5.1 czeski (448 kbps)

Dolby Digital 5.1 polski
(lektor)
Maciej Gudowski (Tekst: Elżbieta Gałązka Salamon) (448 kbps)

Dolby Digital 2.0 angielski komentarze (224 kbps)
Subtitles / Napisy:
Aspect Ratio: 16:9 - 2.40:1
Anamorphic Scope
(1080p / 23.976 fps / High Definition)
Interaktywne menu w języku: angielskim
BD-Info Raport [←→]
Rozmiar Filmu: 30,64 GB z Audio
Video codek:
MPEG-4 AVC
Region:
A-B-C
Typ płyty:
44,66 GB
Blu-ray Disc (dwuwarstwowa)
Supplements / Materiały dodatkowe:
- "Spectacular, Spectacular" Picture-in-Picture Mode witch Audio Commentary (Off/On)
- Audio Commentary by Baz Luhrmann, Catherine Martin, Donald M. Mcalpione and Craig Pearce (Off/On)
MPEG-4, HD (1920x1080) Dolby Digital 2.0 angielski (kbps)
napisy: polskie
- A Word From Baz (00:01:58)
- A Creative Adventure (00:11:04)
- The House of Iona (00:07:11)
- The Making of Moulin Rouge (00:25:55)
From The Bazmark Vault
- Father & Son (00:06:22)
- Early Cut of Zidler's Rap (00:03:00)
- Baz Unleashes Unbridled Lust (00:05:16)
- A Kiss, a Touch or a Pat (00:01:51)
- Nicole & Jim Rehearse at Iona (00:01:25)
- Ewan & Nicole's First Dance (00:02:29)
- Zidler's Jig (00:00:42)
- Dorecting Man in the Moon and Deleted Cut (00:03:34)
- Directing Like a Virgin (00:02:21)
- The Duke's Happy Ending (00:01:02)
- Jealousy Tango - The Early Tests (00:02:37)
- Rehearsal Footage - Jealousy Tango (00:03:31)
- Regearsing Ravishment (00:03:45)
- On-Set With Toulouse Tonight (00:01:05)
- Nicole Kidman's First Vocal Test - "Sad Diamonds" (00:01:38)
The Stars
- Nicole Kidman as Satine (00:03:44)
- Ewan McGregory As Christian (00:03:44)
- John Leguizamo As Toulouse (00:02:31)
- Jim Broadbent As Zidler (00:13:34)
The Writers
- Interview with Writers Baz Luhrmann & Craig Pearce (00:04:09)
- Craig Pearce Reads Early Treamtment (00:02:29)
The Design
- Interview with Production Designer and Co-Costume Designer Catherine Martin (00:06:49)
The Dance
The Music
The Cutting Room
Toulouse Tomoght Web Series
Marketing
- Around The World With The Moulin Rouge (00:02:10)
- Theatrical Trailer (00:02:26)
- Japanse Theatrical Trailer (00:01:51)
-
BD-Live ™
Screen Menu [Blu-ray]
Opis: Olśniewająca wizualnie opowieść o miłości, filmowa pochwała, prawdy, wolności i piękna. Nicole Kidman lśni najjaśniejszym blaskiem w roli Satine - pięknej kurtyzany i zachwycającej gwiazdy najsłynniejszego i najbardziej skandalizującego nocnego klubu Paryża przełomu wieków - Moulin Rouge. Młody poeta, Christian (Ewan McGregor) opuszcza swój rodzinny dom i przenosi się na Montmartre, gdzie poznaje Henri Toulouse-Lautreca, który wprowadza go w świat paryskiej bohemy. W sławnym kabarecie Moulin Rouge Christian poznaje jego największą gwiazdę - Satine - tancerkę, piosenkarkę i kurtyzanę, w której kochają się wszyscy męscy bywalcy klubu. Satine nie chce być tancerką, marzy by zostać prawdziwą aktorką. Książę Worcester godzi się sfinansować kosztowną rewię z jej udziałem po warunkiem, że Satine zostanie jego kochanką. Satine jest natomiast zakochana w Christianie...
Video Bitrate [Blu-ray]
Zwiastun [Youtube]
Blu-ray
- Moulin Rouge! (2001) EAN: 5903570066276