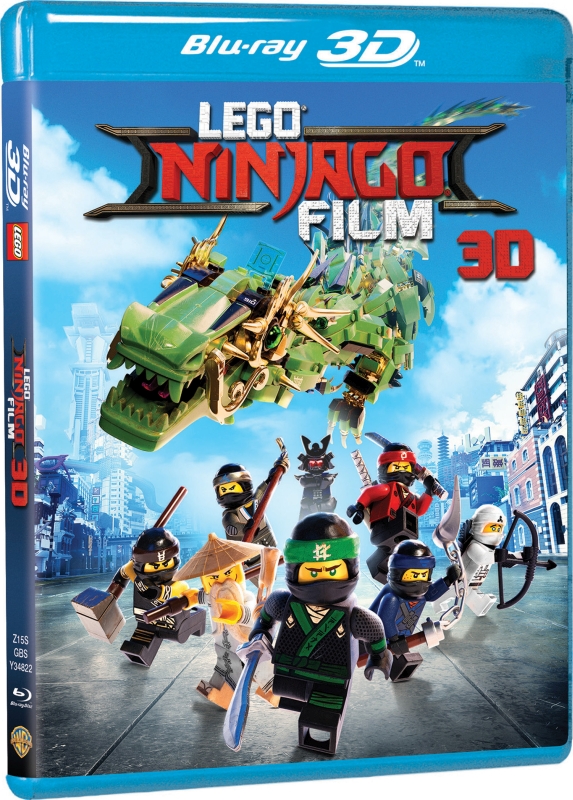 ---
Screen
Video Bitrate
Okładka
Gdzie Kupić?
Komentarze
---
Tytuł polski:
Lego Ninjago: Film 3D

Original Title / Tytuł oryginalny
The Lego Ninjago: Movie 3D
---
Gatunek:
Animacja
Director / Reżyser: Charlie Bean, Paul Fisher, Bob Logan
Writer / Scenariusz: Dan Hageman, Paul Fisher, William Wheeler, Tom Wheeler, Jared Stern, John Whittington
Cinematography / Zdjęcia:
Music / Muzyka: Mark Mothersbaugh
Dubbing angielski: Jackie Chan, Olivia Munn, Dave Franco, Justin Theroux, Michael Pena, Zach Woods, Abbi Jacobson, Kumail Nanjiani, Fred Armisen, Charlyne Yi, Ali Wong, David Burrows, Garret Elkins, Vanara Taing, Randall Park, Retta, Chris Hardwick, Robin Roberts, Michael Strahan, Constance Wu, Chris McKay, John Venzon
Dystrybucja w polsce:
Galapagos
Studio:
Warner Bros.
Data produkcji: 2017
Numer katalogowy: Z15S GBSY 34822
(PL - Polska)
okładka w języku polskim
EAN: 7321999348229
Dostępny w sprzedaży:
15.02.2018
Czas: 01:41:26
Aspect Ratio: 16:9 - 2.35:1
Anamorphic Scope
(1080p / 23,976 fps / High Definition)
Interaktywne menu w języku: angielskim
BD-Info Raport [shortcut]
BD-Info Raport
Rozmiar Filmu 2D: 24,87 GB z Audio
Video codek 2D:
MPEG-4 AVC
Video codek 3D:
MPEG-4 MVC
Region:
A-B-C
Typ płyty 3D:
?? GB
Blu-ray Disc (dwuwarstwowa)
Typ płyty 2D:
35,39 GB
Blu-ray Disc (dwuwarstwowa)
Supplements / Materiały dodatkowe:
MPEG-4, HD (1920x1080) Dolby Digital 2.0 angielski (192 kbps)
napisy: polskie i inne.
Featurettes
(All 00:18:19)
- Team Supreme: Building NINJAGO (00:08:19)
- Rumble in the Bricks (00:05:19)
- Rebrick Contest Winners (00:04:39)
Mini Movies
(All 00:09:47)
- Shark E. Shark in Which Way to the Ocean (00:02:25)
- Zane's Stand Up Promo (00:02:02)
- The Master: A LEGO NINJAGO Short (00:05:18)
Music Videos
(All 00:06:58)
- Oh, Hush! & Jeff Lewis "Found (00:03:21)
- Everbody Have a Ninja Day (00:01:06)
- Warlord Ballad (00:01:10)
- Rocktagon (00:01:19)
Deleted Scenes
- Animation Bridge Test (00:01:33)
- Baby Fight (00:02:50)
- Dock Scene (00:03:16)
- Gimme Some Outtakes! (00:04:42)
Promotion Material
(All 00:20:28)
- The LEGO NINJAGO Movie: Behind the Bricks (00:03:59)
- Please Silecne Your Ceel Phones (00:00:47)
- Please Put on Your 3D Glasses (00:00:44)
- LEGO Sets in Action (00:02:32)
- The LEGO NINJAGO Movie: Ninja Formation (00:01:39)
- Find Year Inner Ninja with Jackie Chan (00:01:37)
- Ninja Jokes with Jackie Chan (00:00:27)
- Kicks & Bricks: Making The LEGO NINJAGO Movie (00:03:47)
- Thw LEGO NINJAGO Movie: Back to School (00:01:27)
- Me and My Minifig (00:03:24)
- Commentary by Directo Charlie Bean and Crew (Off/On)
Storyline / Opis
Pełna akcji i humoru pełnometrażowa przygoda z ulubionymi bohaterami! Lloyd - uczeń za dnia, Zielony Ninja nocą - oraz jego przyjaciele stają do walki o NINJAGO City pod wodzą Mistrza Wu. Odważni wojownicy muszą pokonać nikczemnego Lorda Garmadona, który... jest ojcem Lloyda. W trakcie tej niebezpiecznej misji będą musieli wyzwolić swoją wewnętrzną moc i ocalić miasto.
Screen Blu-ray
- Lego Ninjago: Film 3D - The Lego Ninjago: Movie 3D (2017)
Blu-ray - Video Bitrate
- Lego Ninjago: Film 3D - The Lego Ninjago: Movie 3D (2017)
Blu-ray
- Lego Ninjago: Film 3D - The Lego Ninjago: Movie 3D (2017) EAN: 7321999348229