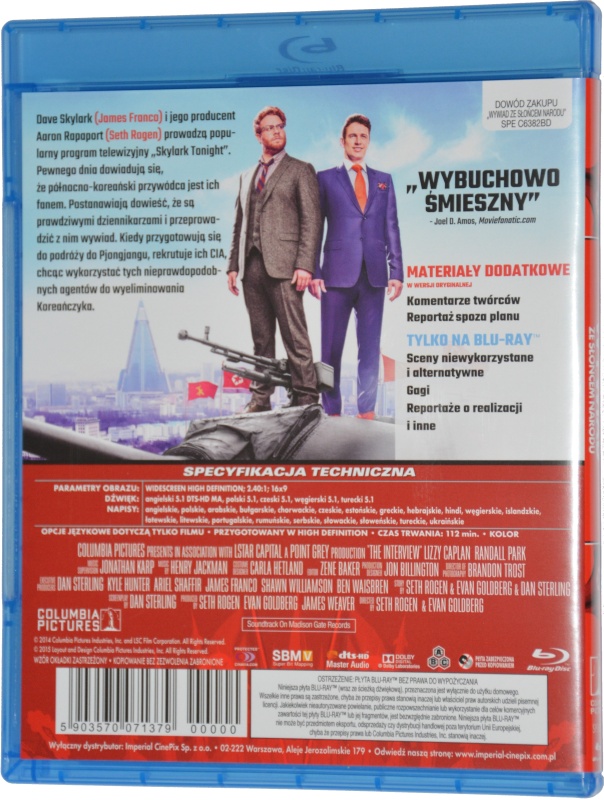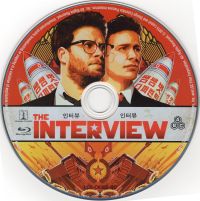 ---
Tytuł polski:
Wywiad ze Słońcem Narodu

Original Title / Tytuł oryginalny
The Interview
---
Gatunek:
Komeida
Reżyser: Evan Goldberg, Seth Rogen
Scenariusz: Evan Goldberg, Seth Rogen, Dan Sterling
Cinematography / Zdjęcia: Brandon Trost
Muzyka: Henry Jackman
Cast / Obsada: James Franco, Seth Rogen, Lizzy Caplan, Randall Park, Diana Bang, Timothy Simons, Reese Alexander, James Yi, Paul Bae, Geoff Gustafson, Dominique Lalonde, Anesha Bailey, Anders Holm, Charles Rahi Chun, Don Chow, Colin Foo, Larry Hoe, Cleo Yeh, Yuna Song, Michelle Kim, Peenkay Tang, Lia Lam, Hazeltine Gariza, Willem Jacobson, Daniel Lim, Harrison Lee, Jason Cox, John Coughlin, Peter Neilly, Yoosik Oum, Scott Seol, Daniel Park, Justin Lee, Andrew Chin, Jung Jin Park, Don Lew
Dystrybucja w Polsce:
Imperial-CinePix
Studio:
Sony Pictures Home Entertainment
Data produkcji: 2014
Numer katalogowy: SPE C6382BD
(PL - Polska)
okładka w języku polskim
EAN: 5903570071379 (26,99 zł Media Markt 09.09.2016)
Dostępny w sprzedaży:
01.04.2015
Czas: 01:52:11
Audio Formats / Dźwięk:

DTS-HD Master Audio
5.1 angielski

Dolby Digital 5.1 czeski (640 kbps)

Dolby Digital 5.1 węgierski (640 kbps)

Dolby Digital 5.1 polski
(lektor)
Marek Ciunel (Tekst: Mariusz Arno Jaworowski) (640 kbps)
Dolby Digital 5.1 turecki (640 kbps)

Dolby Digital 2.0 angielski komentarze (192 kbps)
Subtitles / Napisy:
Aspect Ratio: 16:9 - 2.40:1
Anamorphic Scope
(1080p / 23,976 fps / High Definition)
Interaktywne menu w języku: angielskim
BD-Info Raport [225 KB]
Rozmiar Filmu: 24,00 GB z Audio
Video codek:
MPEG-4 AVC
Region:
A-B-C
Typ płyty:
34,06 GB
Blu-ray Disc (dwuwarstwowa)
Supplements / Materiały dodatkowe:
- Director's Commentary (Off/On)
MPEG-4, HD (1920x1080) Dolby Digital 2.0 angielski (kbps)
napisy: angielskie.
Deleted, Extended and Alternate Scenes
(All 00:25:21)
- Dave is in The Building
- Dave is in The Building Alt
- Kevin's Congrats
- Cold Calling
- Jerk off Challenge
- Jerk off Chalenge Alt
- Bow and Shake
- Mission Briefing
- Write a Tell All
- People Just Tell Me Things
- The Rape Pond
- I Honey Potted You
- It's a Dildo
- Welcome to Flavor Town
- Gag Reel (00:07:03)
Line-O-Ramas
(All 00:09:32)
- Stank Dick (00:01:52)
- Have You Heard? (00:02:48)
- Secure the Payload (00:04:50)
- Directors of Theis Movie (00:06:41)
- Spies Among US (00:07:24)
- Randall Park Audition Tape (00:05:14)
- Getting Into Character (00:04:47)
- Dating a Dictator (00:01:10)
- Puppy Power (00:01:56)
- Here Kitty Kitty (00:05:19)
- Joking Around (00:01:54)
- Neked & Afraid (00:13:47)
Opis: Gwiazdor talk show Dave Skylark (James Franco) wraz ze swoim producentem Aaronem Rapoportem (Seth Rogen) umawiają się na jedyny na świecie wywiad z dyktatorem północnej Korei Kim Dzong Unem. Kiedy jednak CIA dowiaduję się o tym postanawia zlecić im zabójstwo Kima...
Screen Menu [Blu-ray]
Screen [Blu-ray]
Video Bitrate [Blu-ray]
Okładka [Blu-ray]
Blu-ray
- Wywiad ze Słońcem Narodu - The Interview (2014) EAN: 5903570071379