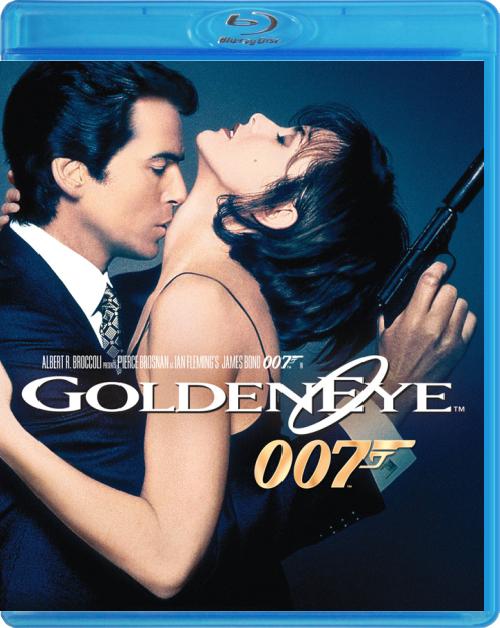 ---
Gdzie Kupić?
Komentarze
---
Tytuł polski:
GoldenEye

Original Title / Tytuł oryginalny
GoldenEye
---
Gatunek:
Sensacyjny
Reżyser: Martin Campbell
Scenariusz: Jeffrey Caine, Bruce Feirstein
Cinematography / Zdjęcia: Phil Meheux
Muzyka: Eric Serra, The Edge
Cast / Obsada: Pierce Brosnan, Sean Bean, Izabella Scorupco, Famke Janssen, Joe Don Baker, Judi Dench, Robbie Coltrane, Gottfried John, Alan Cumming, Tchéky Karyo, Desmond Llewelyn, Samantha Bond, Michael Kitchen, Serena Gordon, Simon Kunz, Pavel Douglas, Olivier Lajous, Billy J. Mitchell, Constantine Gregory, Minnie Driver, Michelle Arthur, Ravil Isyanov, Vladimir Milanovich, Trevor Byfield, Peter Majer, Paul Bannon, Martin Campbell, Simon Crane, Terrance Denville, Max Faulkner, Juliet Forester, Derek Lyons, Wayne Michaels, Paul Sacks, Michael G. Wilson, Bhasker Patel
Dystrybucja w polsce:
Imperial-CinePix
Studio:
Metro-Goldwyn-Mayer
/
20th Century Fox
/ UA
Data produkcji: 1995
Numer katalogowy: 16177BD-PL
(PL - Polska)
okładka w języku polskim
EAN: 5903570068553
Dostępny w sprzedaży:
26.09.2012
Polska 08.03.2013
Czas: 02:10:00
Audio Formats / Dźwięk:

DTS-HD Master Audio
5.1 angielski

DTS 5.1 hiszpański (768 kbps)

DTS 5.1 włoski (768 kbps)

DTS 5.1 japoński (768 kbps)

DTS 5.1 rosyjski (768 kbps)

Dolby Digital 5.1 czeski (448 kbps)

Dolby Digital 5.1 węgierski (448 kbps)

Dolby Digital 5.1 polski
(lektor)
Maciej Gudowski (Tekst: Magda Malcerek) (448 kbps)

Dolby Digital 5.1 tajski (448 kbps)

Dolby Digital 1.0 angielski komentarze (192 kbps)
Subtitles / Napisy:
Aspect Ratio: 16:9 - 2.35:1
Anamorphic Scope
(1080p / 23,976 fps / High Definition)
Interaktywne menu w języku: angielskim, hiszpańskim, włoskim, koreańskim, japońskim, rosyjskim.
BD-Info Raport [←→]
Rozmiar Filmu: 31,53 GB z Audio
Video codek:
MPEG-4 AVC
Region:
A-B-C
Typ płyty:
44,35 GB
Blu-ray Disc (dwuwarstwowa)
Supplements / Materiały dodatkowe:
MPEG-,4 SD (720x480) Dolby Ditial 2.0 angielski (224 kbps)
napisy: hiszpańskie, włoskie, greckie, węgierskie, koreańskie, chińskie, portugalski.
Declassified: MI6 Vault
Deleted Scenes
- Dodging the Guards (00:01:49)
- No Deal (00:01:35)
- Bond Rides With Wade/Natalya in Graveyard (00:01:36)
- No Bugs in the Program (00:01:14)
The Martin Chronicles
- Directing Bond: The Martin Chronicles (00:10:19)
- Directing Bond Segments With Martin Campell Comments (All 00:01:59)
- Building a Better Bond: Pre-Production Featurette (00:09:04)
- The Return of Bond - The Start of Production Press Event (00:05:30)
- Driven to Bond: Remy Julienne (00:02:58)
- Anatomy of a Stunt: Tank Versus Perrier
- Making it Small in Pictures: Derek Meddongs (00:06:10)
- On Location with Peter Lemont (00:12:33)
- Goldeneye: The Secret Files (00:28:31)
- Goldeneye: The Secret Files - The Cast (00:12:21)
- Pre-Title Storyboard Sequence With Director Martin Campbell (00:01:37)
- Credits (00:01:25)
MPEG-,4 HD (1920x1080) Dolby Ditial 2.0 angielski (224 kbps)
napisy: hiszpańskie, włoskie, koreańskie, chińskie, portugalski.
Mission Dossier
- The World of 007 - Original 1995 Television Special Hosted by Elizabeth Hurley (00:43:31)
- The GoldenEye Video Journal (00:14:16)
- Promotional Featurette (00:05:22)
- "Goldeneye" Music Video Performer by Tina Turner (00:03:33)
- Exotic Locations (00:03:04)
Ministry of Propaganda
- Theatrical Archive (All 00:04:25)
Secret Weapon (00:02:49)
New World Bond (00:01:36)
- TV Broadcasts (All 00:06:43)
Depend on one Man
Onatopp
You Know His Name
Goldenete Exists
Return of Bond
Morning Q
Do it With Style
Black tie Event
Critic's Choice
America's Number One
Only Bond
New Year Bond
Image DataBase
- Introduction
- Price Brosnan
- Izabella Scorupco
- Sean Bean
- Famke Janssen
- The Bad and the Good
- Bond's Team
- Casino Beauties
- Classic Cars
- Car Chase Storyboards
- Tank Chase
- Tiger Helicopter
- Publicity and Posters
Screen Menu [Blu-ray]
Opis: Piękna Xenia kradnie nowoczesny helikopter Tiger, który następnie zostaje namierzony przez satelity i znajduje się w rosyjskiej bazie wojskowej. Wkrótce jednak miejsce to zostaje zniszczone przez silny impuls elektromagnetyczny wystrzelony z broni Goldeneye. 007 wyjeżdża do Rosji aby odnaleźć niebezpieczną broń oraz porywaczy śmigłowca. Wraz z radziecką programistką Bond ściga dawnego agenta 006, który chce wykorzystać Złote Oko aby zniszczyć Londyn.
Screen [Blu-ray]
Video Bitrate [Blu-ray]
Lektor [Tłumaczenie]
Okładka [Blu-ray]
Blu-ray
- GoldenEye (1995) (007 James Bond) EAN: 5903570068553