---
Screen
Video Bitrate
Okładka
Gdzie Kupić?
Komentarze
---
Tytuł polski:
Ale Czad !

Original Title / Tytuł oryginalny
Fired Up !
---
Gatunek:
Komedia
Reżyser: Will Gluck
Scenariusz: Freedom Jones
Cinematography / Zdjęcia: Shelly Johnson
Muzyka: Richard Gibbs
Cast / Obsada: Eric Christian Olsen, Sarah Roemer, Molly Sims, AnnaLynne McCord, Philip Baker Hall, John Michael Higgins, Smith Cho, Madison Riley, Jessica Szohr, Krista Kalmus, Julianna Guill
Dystrybucja w polsce:
Imperial-Cinepix
Studio:
Screen Gems
Data produkcji: 2009
Numer katalogowy: SPE 46617BD
(PL - Polska)
okładka w języku polskim
EAN: 5903570065422 (9,99 zł allegro 19.07.2018)
Dostępny w sprzedaży:
15.02.2010
Czas: 01:30:49
Audio Formats / Dźwięk:

Dolby TrueHD
5.1 angielski

Dolby Digital 5.1 czeski (640 kbps)

Dolby Digital 5.1 polski
(lektor)
Daniel Załuski (Tekst: Danuta Dowjat) (640 kbps)

Dolby Digital 5.1 węgierski (640 kbps)
Dolby Digital 5.1 turecki (640 kbps)

Dolby Digital 2.0 angielski komentarze (192 kbps)
Subtitles / Napisy:
Aspect Ratio: 16:9 - 1.85:1
Academy Flat
(1080p / 23,976 fps / High Definition)
Interaktywne menu w języku: angielskim
BD-Info Raport
Rozmiar Filmu: 23,66 GB z Audio
Video codek:
MPEG-4 AVC
Region:
A-B-C
Typ płyty:
37,46 GB
Blu-ray Disc (dwuwarstwowa)
Supplements / Materiały dodatkowe:
- Commantary with Director Will Gluck, Nicholas D'Agosto and Eric Christian Olsen (Off/On)
MPEG-2, HD (1920x1080) Dolby Digital 2.0 angielski (192 kbps)
napisy: angielskie, rumuńskie.
- This is not Cheerleading Movie: The Making of Fired Up! (00:15:37)
- Double Duty (00:06:29)
- Gag Reel - Uncensored Version (00:08:05) (SD)
- Fired Up! Press Junket - Hour 12 (00:01:50) (SD)
Trailers
MPEG-2, HD (1920x1080) Dolby Digital 5.1 angielski (640 kbps)
- Blu-ray Disc is High Definition! (00:02:27)
- The Punisher: War Zone (00:01:22)
- Metro Strachu - The Taking of Pelham 123 (2009) (00:01:59)
- Rok Pierwszy - Year One (2009) (00:02:16)
- 2012 (00:01:08)
-
BD-Live ™
Storyline / Opis
Shawn Colfax (Nicholas D'Agosto) i Nick Brady (Eric Christian Olsen) są gwiazdami drużyny futbolowej szkoły średniej Geralda R. Forda. Boją się perspektywy spędzenia kolejnych wakacji na obozie futbolowym. Nick wymyśla, że zamiast tam pojechać, wybiorą się na obóz cheerleaderek z ich szkoły. Chłopcy świetnie się bawią dopóki Shawn zakochuje się w pięknej kapitance cheerleaderek - Carly (Sarah Roemer), która jest podejrzliwa co do nich. Aby przekonać Carly do siebie, chłopacy będą musieli udowodnić dobre intencje Shawna przed ważnymi zawodami cheerleadingu.
Blu-ray - Video Bitrate
- Ale Czad ! - Fired Up ! (2009)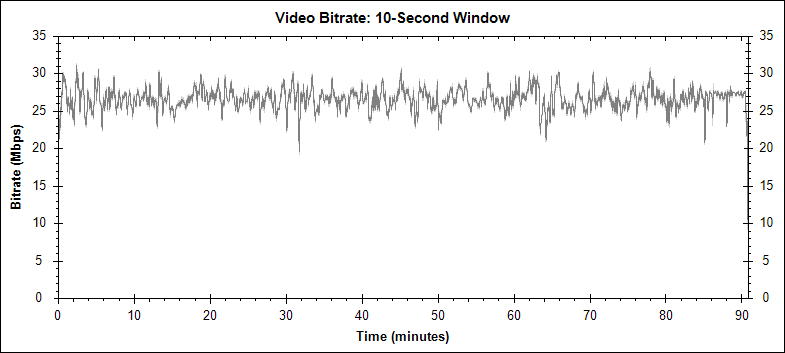 Oryginalna okładka Blu-ray
- Ale Czad ! - Fired Up ! (2009)
Blu-ray
- Ale Czad ! - Fired Up ! (2009) EAN: 5903570065422