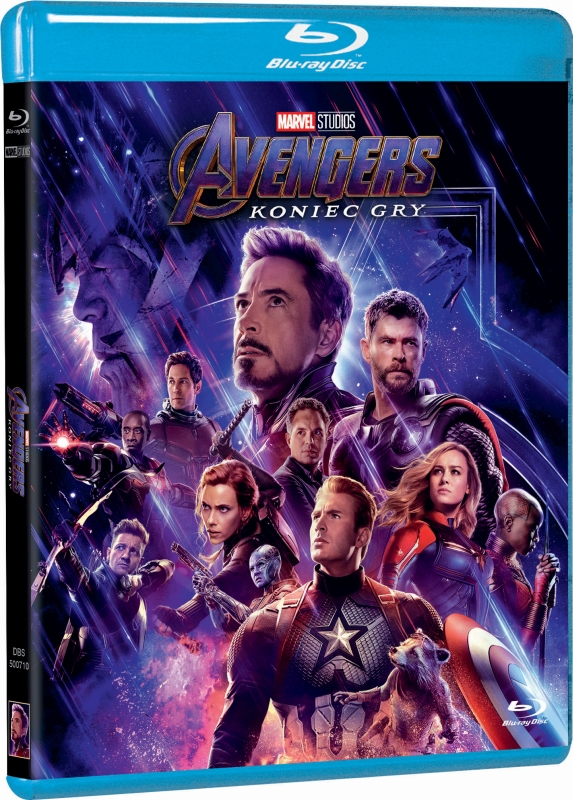 ---
Screen
Video Bitrate
Okładka
Gdzie Kupić?
Komentarze
---
Tytuł polski:
Avengers: Koniec Gry

Original Title / Tytuł oryginalny
Avengers: Endgame
---
Gatunek:
Science-Fiction
Director / Reżyser: Anthony Russo, Joe Russo
Writer / Scenariusz: Christopher Markus, Stephen McFeely
Cinematography / Zdjęcia: Trent Opaloch
Music / Muzyka: Alan Silvestri
Cast / Obsada: Robert Downey Jr., Chris Evans, Mark Ruffalo, Chris Hemsworth, Scarlett Johansson, Jeremy Renner, Don Cheadle, Paul Rudd, Benedict Cumberbatch, Chadwick Boseman, Brie Larson, Tom Holland, Karen Gillan, Zoe Saldana, Evangeline Lilly, Tessa Thompson, Rene Russo, Elizabeth Olsen, Anthony Mackie, Sebastian Stan, Tom Hiddleston, Danai Gurira, Benedict Wong, Pom Klementieff, Dave Bautista, Letitia Wright, John Slattery, Tilda Swinton, Jon Favreau, Hayley Atwell, Natalie Portman (a.z.), Marisa Tomei, Taika Waititi, Angela Bassett, Michael Douglas, Michelle Pfeiffer, William Hurt, Cobie Smulders, Sean Gunn, Winston Duke, Linda Cardellini, Maximiliano Hernández, Frank Grillo, Hirojuki Sanada, Tom Vaughan-Lawlor, James D'Arcy, Jacob Batalon, Vin Diesel, Bradley Cooper, Gwyneth Paltrow, Robert Redford, Josh Brolin, Chris Pratt, Samuel L. Jackson, Lexi Rabe, Ross Marquand, Joe Russo, Emma Fuhrmann, Michael James Shaw, Terry Notary, Kerry Condon, Cade Woodward, Stan Lee, Yvette Nicole Brown, Callan Mulvey, Ken Jeong, Ty Simpkins, Jackson A. Dunn, Jimmy Ray Pickens, Carrie Coon, Faith Logan, Maria Z. Wilson
Dystrybucja w polsce:
Galapagos
Studio:
Marvel Studios
Data produkcji: 2018
Numer katalogowy:
(PL - Polska)
okładka w języku polskim
EAN: 7321941507100
Dostępny w sprzedaży:
04.09.2019
Czas: 180 min.
Audio Formats / Dźwięk:

DTS-HD Master Audio
7.1
angielski

Dolby Digital 5.1 polski
(dubbing)
Subtitles / Napisy:
Aspect Ratio: 16:9 - 2.40:1
Anamorphic Scope
(1080p / 23,976 fps / High Definition)
Interaktywne menu w języku: angielskim
Rozmiar Filmu: GB z Audio
Video codek:
MPEG-4 AVC
Region:
A-B-C
Typ płyty 1:
?? GB
Blu-ray Disc (dwuwarstwowa)
Typ płyty 2:
?? GB
Blu-ray Disc (dwuwarstwowa)
Supplements / Materiały dodatkowe:
- Remembering Stan Lee
- Setting The Tone: Casting Robert Downey Jr.
- A Man Out of Time: Creating Captain America
- Black Widow: Whatever It Takes
- The Russo Brothers: Journey to Endgame
- The Women of the MCU
- Bro Thor
- Six Deleted Scenes
- Gag Reel
- Visionary Intro
- Audio Commentary
Storyline / Opis
Czwarta część serii "Avengers" to punkt kulminacyjny i jedyne w swoim rodzaju zwieńczenie epickiej podróży, obejmującej 22 połączone ze sobą historie. Ziemscy bohaterowie zrozumieją wreszcie, jak wielkich poświęceń wymaga zachowanie naszej kruchej rzeczywistości. To opowieść o przyjaźni, współpracy i o tym, że trzeba zapomnieć o tym, co nas dzieli, żeby pokonać wszelkie przeciwności. Peter Travers z Rolling Stone pisze: "Przygotujcie się na wielkie wow!".
Blu-ray
- Avengers: Koniec Gry - Avengers: Endgame (2019) EAN: 7321941507100
Pakiet Blu-ray
(4 BD) EAN: 7321941507155