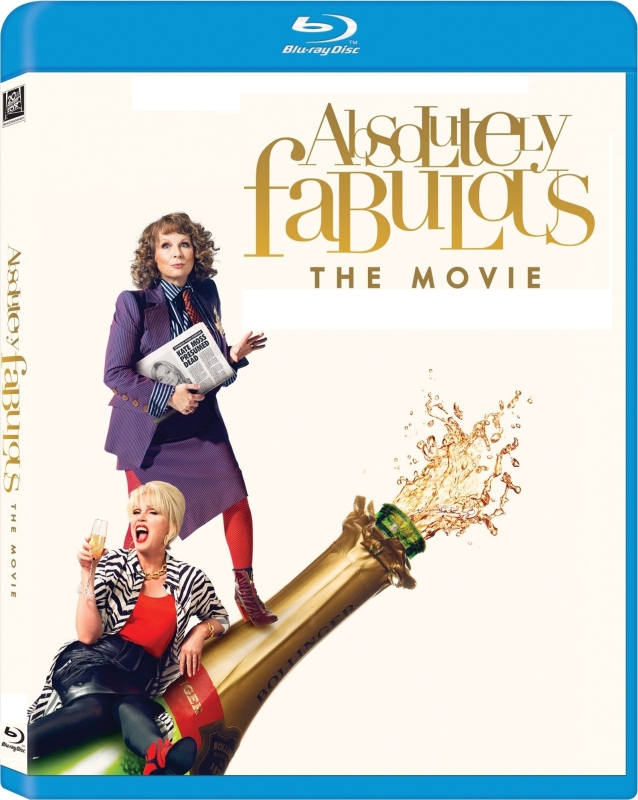 ---
Gdzie Kupić?
Komentarze
---
Tytuł polski:
Absolutnie Fantastyczne: Film

Original Title / Tytuł oryginalny
Absolutely Fabulous: The Movie
---
Gatunek:
Komedia
Reżyser: Mandie Fletcher
Scenariusz: Jennifer Saunders
Cinematography / Zdjęcia: Chris Goodger
Muzyka: Jake Monaco
Cast / Obsada: Cara Delevingne, Gwendoline Christie, Rebel Wilson, Emma Bunton, Kate Moss, Kim Kardashian West, Jane Horrocks, Celia Imrie, Joanna Lumley, Joan Collins, Chris Colfer, Jennifer Saunders, Julia Sawalha, Dawn French, Jerry Hall, Mo Gaffney, Harriet Thorpe, Helen Lederer, Indeyarna Donaldson-Holness, Barry Humphries, Robert Webb, Lulu, June Whitfield, Jean-Paul Gaultier, Sarah Sharman, Daniel Eghan, Beattie Edmondson
Dystrybucja w polsce:
Imperial-CinePix
Tylko DVD
Studio:
20th Century Fox
Data produkcji: 2016
EAN: 5903570159237 - DVD
EAN: 5039036077866 - UK (Wielka Brytania)
Dostępny w sprzedaży:
09.12.2016
Polska:
brak dystrybucji
Czas: 01:30:44
Audio Formats / Dźwięk:

DTS-HD Master Audio
5.1 angielski

DTS 5.1 francuski (768 kbps)

DTS 5.1 niemiecki (768 kbps)

Dolby Digital 5.1 czeski (448 kbps)

Dolby Digital 5.1 węgierski (448 kbps)
Dolby Digital 5.1 chinski (448 kbps)

Dolby Digital 5.1 polski
(lektor)
(Tekst: Piotr Kacprzak) (448 kbps)
Dolby Digital 5.1 turecki (448 kbps)
Subtitles / Napisy:
Aspect Ratio: 16:9 - 2.39:1
Anamorphic Scope
(1080p / 23,976 fps / High Definition)
Interaktywne menu w języku: angielskim
BD-Info Raport [←→]
Rozmiar Filmu: 21,66 GB z Audio
Video codek:
MPEG-4 AVC
Region:
A-B-C
Typ płyty:
45,86 GB
Blu-ray Disc (dwuwarstwowa)
Supplements / Materiały dodatkowe:
MPEG-4, HD (1920x1080) Dolby Digital 2.0 angielski (224 kbps)
napisy: polskie.
- Deleted Scenes (00:03:49)
- Outtakes (00:08:03)
- On set with Dame Edna (00:14:22)
Promotional Featurettes
- Have a look, sweetie darling! (00:13:50)
- Locations (00:02:07)
- Legacy US (00:02:01)
- Cameos (00:02:10)
- Drag Queens (00:01:39)
- Making of (00:02:01)
- Legacy UK (00:01:55)
- Fashion (00:01:59)
- Characters (00:02:59)
- Gallery (Auto Advence 00:02:55)
MPEG-4, HD (1920x1080) Dolby Digital 5.1 angielski (448 kbps)
napisy: polskie.
- Theatrical Trailer (00:02:31)
- Randka na Weselu - Mike and Dave Need Wedding Date (2016) (00:02:24)
- Table 19 (2017) (00:02:26)
Screen Menu [Blu-ray]
Opis: Edina Monsoon i Patsy Stone nadal trzęsą londyńskim światem mody, gwiazd i celebrytów, dzieląc swój czas między zakupy i balowanie w najmodniejszych klubach. Gdy media obarczają je winą za skandaliczny incydent w trakcie jednej z imprez, Edina i Patsy padają ofiarami ataku ze strony brukowych dziennikarzy i paparazzi. Bez grosza przy duszy uciekają na francuską Riwierę, gdzie wspólnie układają plan, który może im zapewnić powodzenie i bogactwo przez resztę życia.
Screen [Blu-ray]
Video Bitrate [Blu-ray]
Okładka [Blu-ray]
Blu-ray
- Absolutnie Fantastyczne: Film - Absolutely Fabulous: The Movie (2016) EAN: 5039036077866
DVD
- Absolutnie Fantastyczne: Film - Absolutely Fabulous: The Movie (2016) EAN: 5903570159237